Winter Car Accident
Get all the information you can before calling your adjuster
A winter car accident can be a big headache.
The police will not come out or if they do, it will take a long time for them to show up.
Tow trucks will be extremely busy and you have to wait on the side for a long period of time (even after the police leaves).
The body shop will be likely full, and the rental car facilities will have rented all vehicles out to all of those involved in recent accidents.
But the "car accident nightmare" does not stop there.
The claim adjuster will be getting your claim plus 15 more per day. Your damages will become a file in someone's desk, and hopefully it is towards the "top" of the pile.
Here are some tips to help you navigate through the process in the contexts of winter accidents and claims.
Claim adjusters are more prone to accept (or deny) liability and to move forward with the coverage investigation in order to move the process along.
The best thing to do is to try to get all the information ready, so when your claim is ready, everything will be on check and you can easily get it processed and paid.
What information will you need?
You need to give a statement (I do not advice you to give a recorded statement, even in a winter car accident setting).
You also need to get the other driver's insurance information, and find out where your car is and where your car will be fixed.
This way you will save the adjuster some time and you will be on the road faster.
Do try to call the police and get some kind of report file. Many times people leave the accident scene thinking that everything is very clear or that they were not at fault.
Opposing parties start to negate facts after they leave the scene. Get a police report because it might be the only way to prove your claim. If you can get witnesses' names and numbers, then you would be in an even better shape.
Pay attention to what the other drivers are saying. In many occasions, there will be comments like "I could not see because my window had snow on it" or "the defrosting feature is not working properly".
Some other people will come out and tell you that they do not have snow tires or the tires that they have are old.
A winter car accident happens because of the weather conditions, and because many drivers are not ready for the change of season (early winter).
A winter car accident happens because drivers are not careful enough and do not take the necessary precautions to drive safely.
As a driver, you will have the responsibility to drive slower and preserve your distance. However, you do not have an affirmative duty to have snow tires or chained tires (in most states).
Having them can not only help you avoid an accident but it can help you demonstrate that you are a responsible driver.
Remember that if the vehicle in front of you losses control because they did not have snow tires, and you hit them from behind. It is possible that you will be held 100% at fault for the accident.
Most states regulations require you to keep a safe distance between you and the vehicle in front of you.
If you hit them, then it will be argued that the distance between the two vehicles was not safe, placing a heavy burden on you.
To summarize, if you are in a winter car accident take note of what was said at the scene, know where your vehicle will be towed, and call a rental car facility to secure someway to get a replacement vehicle for the mean time.
Driving Tips
1. Driving Tips (1 to 5)
2. Driving Tips (6 to 10)
3. Driving Tips (11 to 15)
4. Winter Driving Tips for your car
5. Winter Driver Tips for the driver
6. Winter Car Accidents
7. Snow Tires Regulation
8. Traffic Ticket eBook
9. Beat your Speeding Ticket
Accident Scene
1. Beat your speeding ticket eBook
2. Do I get out of the car?
3. Do I move the car after the crash?
4. Do I have to call the police after an accident?
5. What to do while waiting for the police!

6. What to do when the police gets there?
7. What to do if the paramedics come to the scene of the accident
8. Should I go in the ambulance from the vehicle accident scene?
9. Should I go to the emergency room after an accident?
10. Do I have to report the claim?
Subscribe to our Free Newsletter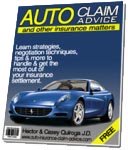 Join our free monthly subscription with tips, news, articles, negotiation techniques, and more about insurance companies and their claim process.