Ask an Attorney a Question for FREE!
Auto Insurance Ezine
Free Newsletter!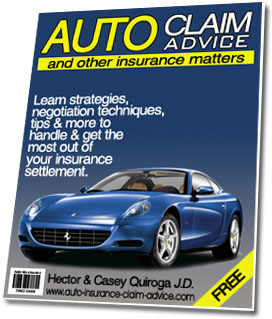 Join our free monthly subscription with tips, news, articles, negotiation techniques, and more about insurance companies and the claim process.


We use this publication to report news of the auto insurance industry. Our primary focus is "claims". However, we heavily research and report on insurance companies' premiums, rankings, negotiation techniques and more.
Please note that we do not spam, sell or distribute your information.
We are not associated with any insurance company and/or insurance group. Therefore, the insurance industry will never get any secured information from this site.
Why should you sign up for our insurance Ezine or newsletter? We will send monthly articles and information (around the 20th of the month) that can save you thousands in insurance claims, legal fees, and insurance premiums.
As this site develops, we will add a Member's Only section which is available only to our Ezine subscribers.
---
For a Free Review of Your Case
Please Call (866) 878-2432
---