Ask an Attorney a Question for FREE!
Personal Property Damage Claim
This type of claim is excluded from your policy, but there could still be coverage
Personal property damage claims are often denied because auto policies exclude "personal property."
All auto insurance policies are meant to exclude personal property. You need to read your policy to see if maybe yours does not exclude personal items.
There are certain "special" provisions that would allow you to make claims for damage to personal property in a car accident situation.
If for example you purchased an "Emergency Package Coverage" or "Road Assistance Protection" then there is a possibility that personal property is covered. Read these provisions of your policy very closely.
They contain "extra coverages" and very often they give you the opportunity to make a personal property damage claim.
If that provision exists, then a low limit of coverage follows that language.
For example, the policy under the Emergency Package Coverage would read something like
We agree to pay for personal property damaged or stolen up to $500.
This is the highest amount you would ever recover from the insurance carrier for your stolen personal property.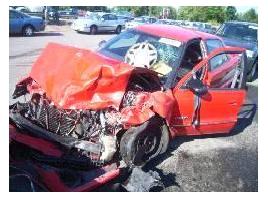 Personal property damage claims are covered by liability coverage. This means that if you damage someone's property because of your negligence, then your policy will have to pay for that damage.
Equally, if someone damages your property, then that person's policy must pay for that.
But insurance companies will only pay for Actual Cash Value (ACV). ACV means that you will only receive payment for the fair market value for your personal property damage claim.
It sounds like you would receive good compensation for your property, but in reality, insurance companies will use this "clause" or "term" to depreciate your property.
Some depreciation is normal. But sometimes, insurance companies will take so much away from the value of the property that one questions whether they simply do not want to pay the claim. They make it very hard to argue value.
The insurance adjuster will be looking for receipts and/or some kind of indication regarding the property. They will be trying to determine the market value of your property by looking at the life expectancy of that property.
Power tools are great examples. According to the insurance company I worked for, a power tool only has five years of useable life.
This means that every year that you own your tool, you will lose 20% its value. So if you own this power tool for 2 years and 4 months, the insurance company will reduce it to 45% of its value, and only pay you 55%.
Therefore, if you paid $100 for this power tool, the best you could get as recovery is $55. It does not matter that you only used this tool one time and that you take very good care of your tools.
But depreciation of the equipment is not the only deduction that you need to worry about. If you decide to keep the equipment or what is left of it, then the insurance company will charge you with that equipment's salvage value.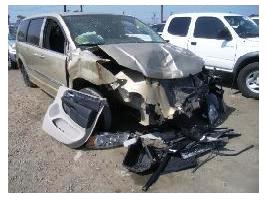 For example, if the insurance company determines that your power tool has about 10% value left on it, then you will only be paid with 10% and you MUST give the insurance company whatever pieces are left of your tool (many times your tool will still work even after an accident).
If you want to keep the pieces, then the insurance company will deduct from their payment the value they believe they could earn if they sell the pieces.
Sometimes it is worth keeping property after an accident. The damage could be minimal, but the depreciation could be so high that you would be better off just keeping them.
Sometimes, the damaged property is completely destroyed and you would not be able to do much with it. If this is the case then you must turn in the broken pieces.

This is a hard claim to make, but if you have documentation and records, you can get some compensation for the loss.

1. Insurance Vehicle Repairs
2. Can I dispute the adjuster's estimate?
3. Auto Claim with Prior Damages
4. My car is on fire! Fire losses
5. Auto Damage Estimate
6. Diminished Value Claims
7. Vehicle Total Loss Part 1
8. Vehicle Total Loss Part 2
9. Rental Car Claim and Loss of Use Page 1
10. Rental Car Claim and Loss of Use Page 2
11. Stereo Equipment Claim
12. Personal Property Damage Claim
13. Sentimental Property Damage Claim
14. Damage to Real Property Claims
15. Animal Loss or Vet Bills Claim
---
For a Free Review of Your Case
Please Call (866) 878-2432
---