Ask an Attorney a Question for FREE!
Auto Liability Coverage
This coverage protects you against lawsuits
Automobile Liability Coverage Features:
Third Party Coverage
Fault based
No Deductible applies (unless you have a commercial policy)
Limits on amount of coverage
This coverage is required by law. You must be able to provide proof of insurance when the police ask you. The police will be looking for this particular coverage.
All states have minimum liability coverage limits that must be carried by every vehicle that is on the road.
In Washington State, insurance companies must provide a minimum liability limit of $25,000. This is the least amount of coverage you must carry.
Other states have different limits (see our state law page for each individual state).
This section of the policy covers you (the policyholder) and/or the driver (sometimes they are different people) against liability (being at fault) to a third party in a vehicle accident.
The driver of your car or you (the policy holder) must be at fault. To see how insurance companies determine fault, go to our section on "Determining Fault."
The only exception or restriction to this analysis is if you are in an accident in a "no fault state."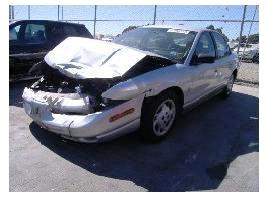 The No Fault States are: Colorado, Florida, Hawaii, Kansas, Kentucky, Massachusetts, Michigan, Minnesota, New Jersey, New York, North Dakota, Pennsylvania, and Utah to which special restrictions and regulations apply. (See our State Law page for more information on each state).
You can be liable to a third party by
1. damaging someone else's property or
2. by injuring someone else.
Keep in mind that Liability Coverage covers third party damages (claimant's damages) not your own.
Therefore, if you drive a Ford and they drive a Chevy, this coverage will only cover damages to the Chevy. You will have to fix the Ford on your own if you do not have any other coverage (in particular, Collision Coverage).
In the accident below you will see how situations 1 and 2 (above) can happen at once!
What is really covered under Liability Coverage?
Well, you are covered against fault. This means that you are being shielded from potentially being sued for damages that you cause someone else (you cannot be liable to yourself).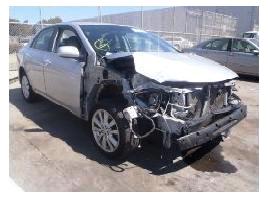 In other words, you are being protected from any and all claims that a third party can bring against you. Therefore, if you pay for Liability Coverage, it is the job of your insurance carrier to protect you against litigation. How do they do this?
The insurance carrier will negotiate with and pay the claimant (the third party) for the property damage you caused him (i.e. fix their car, pay their towing charges, pay for the rental car, and any other expense they would not have had the accident not happened).
The insurance carrier will also pay for the third party's medical bills, known as special damages, and for their pain and suffering, known as General Damages.
General damages are the most litigated today. They are damages that are subjective in nature. Usually they refer to pain and suffering and to loss of quality of life.
Your insurance company under Liability Coverage will pay fairly easily for the property damage you caused (after an investigation to determine whether or not you are at fault).
Why do I say fairly easily? Well, these damages can be accounted for (a rental car costs $30 per day, and it took ten days to fix the car, therefore they owe $300). Equally, it is simple to ascertain the price of fixing a car (how much did the bodyshop charge?).
This is straightforward. However, life often times is more complicated than that.
Some damages, like hitting an antique vehicle, are hard to calculate. Some old cars appreciate in value, while most cars lose value over time. If you are looking at a total loss situation then the process can be more complicated (see: Total loss).
Click below for an explanation insurance coverages and terms:
Automobile Liability Insurance or Liability Page 1
Automobile Liability Insurance or Liability Page 2

Automobile Medical Payments or Personal Injury Protection (PIP) Page 1
Automobile Medical Payments or Personal Injury Protection (PIP) Page 2

Collision Coverage (Protection Against Loss to the Auto) Page 1
Collision Coverage (Protection Against Loss to the Auto) Page 2
Comprehensive Coverage (Protection Against Loss to the Auto) Page 1
Comprehensive Coverage (Protection Against Loss to the Auto) Page 2

Under or Uninsured Motorist Property Damage (UMPD) Page 1
Under or Uninsured Motorist Property Damage (UMPD) Page 2

Under or Uninsured Motorist Bodily Injury (UMBI)

Rental Reimbursement or Loss of Use Coverage Page 1
Rental Reimbursement or Loss of Use Coverage Page 2
Restoration Coverage

Towing and/or Road Assistance Coverage (Emergency Packages)
Insurance Clauses and Terms
Overview
Actual Cash Value or ACV
Additional Insurance Clause
Cancellation of Coverage Clause
Choice of Law Clause
Forum Selection Clause

Duty to Cooperate Clause
Duty to Report Losses Clause
Financial Responsibility Clause
Insurable Interest Concept
Interpretation of the Policy Concept
Mandatory Arbitration Clause
Mitigation of Damages Clause
Non Duplication of Benefits Clause
Proof of Loss Clause
Promissory Estoppel Concept
Reservation of Rights Concept
Reasonable and Necessary Clause
Right of Appraisal Clause
Right of Settlement Clause
Rights of Counsel Concept
Subrogation of Rights Clause Part I
Subrogation of Rights Clause Part II
Statute of Limitations Concept
Replacement Cost Value
Restoration Coverage
Transfer of Benefits Clause
---
For a Free Review of Your Case
Please Call (866) 878-2432
---