Ask an Attorney a Question for FREE!
The Statute of Limitations
If you do not file a lawsuit then you could lose all your rights!
The statute of limitations is how every state restricts the amount of time allowed to bring a lawsuit against a responsible party.
If you do not file a formal lawsuit within the specified time, you will lose all your rights to recover damages.
Bodily injury and property damage claims have different statutes of limitations, and usually the bodily injury claim statute is longer by at least a year.
Every state has different statutes of limitation. See our appendix for different states.
States have consumer protection laws and they require insurance carriers to put you on notice of when the statute of limitation approaches.
Note that this protection is only available to you if you are NOT represented by an attorney.
If an attorney represents you, then it is her responsibility to protect you from losing your rights.
It is important to remember that to protect your rights from the statute of limitations, you are only required to file a summons and complaint (a lawsuit).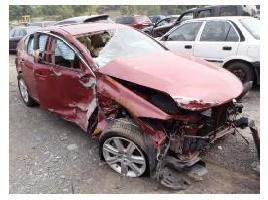 This is important because filing a lawsuit is not that expensive (anywhere from $20 to $450), and all it takes is to fill out some forms and walk them to the courthouse.
You DO NOT have to serve the lawsuit upon the responsible party in order to protect the statute.
Filing is the first step and it already buys you time to settle with the insurance company.
How much time? That depends on the state law.
Some states will give you twenty days to serve the complaint. Some will give you up to three years. Check every state for more information pertinent to your state.
Click below for an explanation of insurance coverages and terms:
Automobile Liability Insurance or Liability Page 1
Automobile Liability Insurance or Liability Page 2

Automobile Medical Payments or Personal Injury Protection (PIP) Page 1
Automobile Medical Payments or Personal Injury Protection (PIP) Page 2

Collision Coverage (Protection Against Loss to the Auto) Page 1
Collision Coverage (Protection Against Loss to the Auto) Page 2
Comprehensive Coverage (Protection Against Loss to the Auto) Page 1
Comprehensive Coverage (Protection Against Loss to the Auto) Page 2

Under or Uninsured Motorist Property Damage (UMPD) Page 1
Under or Uninsured Motorist Property Damage (UMPD) Page 2

Under or Uninsured Motorist Bodily Injury (UMBI)

Rental Reimbursement or Loss of Use Coverage Page 1
Rental Reimbursement or Loss of Use Coverage Page 2
Restoration Coverage

Towing and/or Road Assistance Coverage (Emergency Packages)
Insurance Clauses and Terms
Overview
Actual Cash Value or ACV
Additional Insurance Clause
Cancellation of Coverage Clause
Choice of Law Clause
Forum Selection Clause

Duty to Cooperate Clause
Duty to Report Losses Clause
Financial Responsibility Clause
Insurable Interest Concept
Interpretation of the Policy Concept
Mandatory Arbitration Clause
Mitigation of Damages Clause
Non Duplication of Benefits Clause
Proof of Loss Clause
Promissory Estoppel Concept
Reservation of Rights Concept
Reasonable and Necessary Clause
Right of Appraisal Clause
Right of Settlement Clause
Rights of Counsel Concept
Subrogation of Rights Clause Part I
Subrogation of Rights Clause Part II
Statute of Limitations Concept
Replacement Cost Value
Restoration Coverage
Transfer of Benefits Clause
---
For a Free Review of Your Case
Please Call (866) 878-2432
---