Ask an Attorney a Question for FREE!
Comprehensive Coverage
Protection against accidents with animals and other objects
Comprehensive Coverage - also known as Protection against Loss to the Auto.
Main Coverage features:
First Party Coverage
No Fault based
Deductible Applies
No Limits on amount of coverage
Comprehensive is the catchall coverage. Here is where insurance companies provide protection that the Collision Coverage excludes.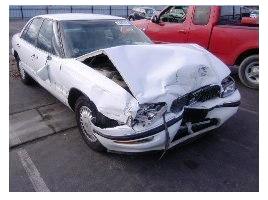 Usually, the definition of comprehensive coverage is coverage for "anything that is not a collision."
Comprehensive Coverage is not a "at fault" provision on the policy; this means that your insurance company will pay immediately after learning about the loss and after conducting an investigation.
The insurance company will have required deductibles for this type of loss. The deductible is usually much lower than the collision deductible (50% or more).
I would say that having Comprehensive coverage is rather inexpensive and if you are getting Collision coverage, then you might as well have this coverage too.
Comprehensive and Collision coverages are oftentimes sold together. Some Insurance companies though will not let you get both coverages together. This means that some insurance providers will either let you have collision and not comprehensive coverage or vice versa.
If you have a vehicle parked or garaged somewhere (if you drive it, then liability coverage is required by law), and you cannot afford not to have insurance on it (i.e. custom vehicles or antiques), then having comprehensive coverage alone is enough. Why?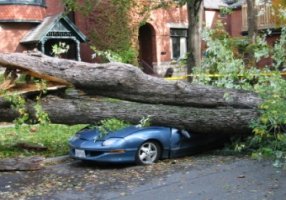 Comprehensive covers you against fire, theft or larceny, vandalism, Acts of God (hail, snow, flooding, lightning, etc.), falling objects (like trees), and riots or civil disobedience.
It also protects you from collisions with animals (deer, dogs, cats, birds, cattle, etc), something that is excluded in the Collision coverage.
Insurance companies are split regarding the issue of rock chips cracking your windshield.
Some carriers call it a collision, some call it comprehensive, and some will let you choose the one that has the lower deductible (about time they give the consumer a freebie).
However, some companies are excluding rock chips altogether from their policies.
You need to read your police carefully to find out which protection you have under the Comprehensive Coverage section (see more on how to read your policy).
Just keep in mind that most insurance companies will give you some sort of a deal. If you decide to get a brand new windshield, they will pay for that minus your deductible.
If you just let them fix your windshield by going to a glass repair facility, then they will pay the entire amount (free to you). You just have to ask (or read your policy).

Read More About Comprehensive Coverage on Page 2 of this article.
Click below for an explanation insurance coverages and terms:
Automobile Liability Insurance or Liability Page 1
Automobile Liability Insurance or Liability Page 2

Automobile Medical Payments or Personal Injury Protection (PIP) Page 1
Automobile Medical Payments or Personal Injury Protection (PIP) Page 2

Collision Coverage (Protection Against Loss to the Auto) Page 1
Collision Coverage (Protection Against Loss to the Auto) Page 2
Comprehensive Coverage (Protection Against Loss to the Auto) Page 1
Comprehensive Coverage (Protection Against Loss to the Auto) Page 2

Under or Uninsured Motorist Property Damage (UMPD) Page 1
Under or Uninsured Motorist Property Damage (UMPD) Page 2

Under or Uninsured Motorist Bodily Injury (UMBI)

Rental Reimbursement or Loss of Use Coverage Page 1
Rental Reimbursement or Loss of Use Coverage Page 2
Restoration Coverage

Towing and/or Road Assistance Coverage (Emergency Packages)
Insurance Clauses and Terms
Overview
Actual Cash Value or ACV
Additional Insurance Clause
Cancellation of Coverage Clause
Choice of Law Clause
Forum Selection Clause

Duty to Cooperate Clause
Duty to Report Losses Clause
Financial Responsibility Clause
Insurable Interest Concept
Interpretation of the Policy Concept
Mandatory Arbitration Clause
Mitigation of Damages Clause
Non Duplication of Benefits Clause
Proof of Loss Clause
Promissory Estoppel Concept
Reservation of Rights Concept
Reasonable and Necessary Clause
Right of Appraisal Clause
Right of Settlement Clause
Rights of Counsel Concept
Subrogation of Rights Clause Part I
Subrogation of Rights Clause Part II
Statute of Limitations Concept
Replacement Cost Value
Restoration Coverage
Transfer of Benefits Clause
---
For a Free Review of Your Case
Please Call (866) 878-2432
---