Ask an Attorney a Question for FREE!
Contact Us
Thank you for taking the time to contact us. Maintaining your privacy is very important to us. Your information will remain exclusively with Auto-Insurance-Claim-Advice.com.
I welcome all other comments, suggestions, partnerships, affiliate inquires, and advertising questions.
This page is also meant for those that want to ask for permission to publish any of my content elsewhere.
This page is intended for contact regarding this website's content. I do not have any link partnership and I am not interested in one, so please do not email about exchanging links, I will not respond.
If you would like legal advice please visit the find a lawyer page. I do not give legal advice here, contact a lawyer directly.
If you have a particular insurance claim story you would like to share and publish on this site, please feel free to send it to use and here for review.
If you would like to submit a question, please click here. I no longer answer questions via email.
All questions are submitted here, please do not email me as I will not respond any questions about claims unless they are done through the "submit a question section."
You are welcome to use "anonymous" as your name in your submission if would not like your name online. We will publish the name of any insurance company that has not treated you fairly!
If you need to express your frustration with the insurance claim process, I invite you write your story here.
Thank you in advance and I will be in contact.
Also, please follow us on twitter (better and faster contact) at: http://twitter.com/autoclaim
Subscribe to our Free Newsletter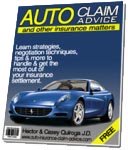 Join our free monthly subscription with tips, news, articles, negotiation techniques, and more about insurance companies and their claim process.
---
For a Free Review of Your Case
Please Call (866) 878-2432
---