Ask an Attorney a Question for FREE!
Pain and Suffering
A question of value - how much?
Pain and suffering is by far the most common and most litigated form of damages. It is usually claimed in accidents where physical injuries exist.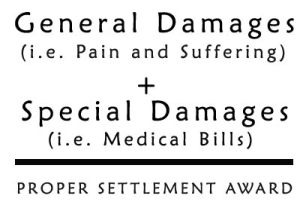 Pain and/or suffering falls under the remedy of compensatory general damages section of tort law. "General" is part of the definition because when there is a tort (i.e. negligence), damages like pain and suffering generally "flow out of the tort".
General damages (pain and suffering) are very hard to calculate.
How much is your headache worth? To a claim adjuster not very much, but to you, it could be at the million dollar mark.
How does a claim adjuster differentiate between the people that claim they had a headache and those that legitimately had one? This is the main reason why most injury claims end up in court.
Get a great Bodily Injury E-book for more key information.
Claim adjusters are trained to understand most types of injuries. They know the most common conditions that come out of a car accident. More experienced adjusters deal with more severe and rare medical conditions that could be caused by car accidents.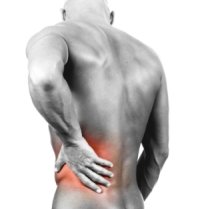 Their training is by no means technical. It is nothing more than looking over medical dictionaries and reading medical records (things we all can do without formal education).
Although these individuals (I was one of them) know about injuries and medical conditions, they are ill-trained to evaluate pain. None of them have any kind of medical qualification to make any kind of assessment about the pain of an injury.
What do they evaluate then? How do they come to a value? Great questions, but before I answer them, I will caution you against different scams out there.
Many people will try to sell you software, eBooks, books, courses and other materials that give you the formula that insurance companies use to settle claims like yours.
There is no such formula. There are however, detailed jury instructions that are "helpful."
I personally sell a book on negotiation and try to guide my readers on how to evaluate their own claim, and then learn to negotiate the strong points and downplay the weak ones for their particular case.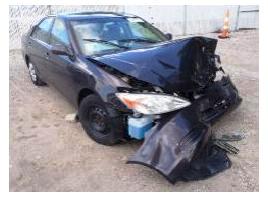 Many attorneys try to multiply by 2 or 3 the amount of the medical bills and then come up to a value for pain and suffering.
This is not the way to look at pain and suffering. Some injuries that have little medical expenses can have a big impact in someone's life. For example, a 14 year old girl with ten stitches on her face would cause embarrassment, self-esteem problems, depression, etc. She would have to face substantial issues, at least, during her high school years.
The cost of ten stitches is "low" and multiplying this by two or three will not yield the amount that will compensate for the pain and suffering this girl will have. Even if you add some reconstructive surgery costs to the multiplication, the result would be less than what she should be entitled to.
Equally there are those accidents where the medical cost incurred is very high, but the injury yields no real pain. We all know about frivolous lawsuits.
I am talking about the typical car accident where you "tap" the vehicle in front you at one mile per hour causing no damage to either vehicle. The person in front calls an ambulance, gets X-rays, and claims loss wages for 10 days plus $120,000 for pain and suffering.
The medical bills could add up to $3,000 to $4,000 (ambulance rides are expensive these days), and all the exams to make sure this person is okay.
Should your insurance company multiply the medical bills by two or three to come to a value to compensate for pain? This person would be entitled anywhere from $6,000 to $12,000 just for pain alone. I do not think that this should be the case.
Don't be fooled into thinking that the examples above are the "extremes". They are not. It is very common to see people in car accidents claiming injuries that never existed, and it is also common to see injuries that put a person into a coma.
Evaluating pain should not be a matter of the multiplication of medical bills, and if it was, then there would be no need for insurance adjusters, lawyers, or websites like this one!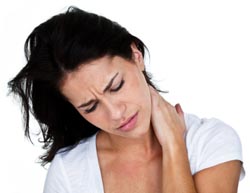 You are entitled to pain and suffering if the pain existed because of an injury.
You are not entitled to pain and suffering because of the accident. In other words, the inconvenience of having to rent a car, talk to adjusters, take statements, deal with body shops, etc. is not compensated under "pain and suffering". Pain and suffering will only cover the pain brought by the injury (neck pain, back pain, shoulder pain, etc.).
Note: You are not entitled to recover pain and suffering if you caused injury to yourself, even if you caused it by accident.
If you are driving and your negligence caused you to be harmed, your insurance will pay for your medical bills (provided that you have PIP coverage on your policy), but there will be no payments to you for pain and suffering. Your passengers however will be entitled to recover for this type of damage even if they are family member and/or spouses.
In any situation, pain and suffering is determined by you and by you alone. You must establish how the accident affected your life. For this reason, it is critical that you look at your treatment calendar, figure out how many times you were treated, how often you were treated, and how many doctors you have to see. How much has this accident impacted your life?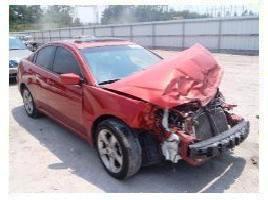 The most accurate estimation is to check out similar cases in your local area that have gone in front of a jury. This is the best guide you can have.
Multiplying your bills can help "guide you" but it should not be your only research tool.
Insurance companies are not on your side. You can either get this personal injury eBook or talk to a personal injury attorney before you make any decisions about your claim!
Follow the links below for more information about accident injuries, bodily injury claims, and what to ask for when making this type of claim.
1. Who can make a bodily injury claim
2. Reserving your bodily injury claim
3. Soft Tissue Claim Part I

4. Permanent Injury Claim
5. Medical bills, medicine, expenses
6. Loss of Wages
7. Loss of Earning Capacity
8. Loss of Business Income
9. Loss of Consortium
10. Loss of Quality of Life
11. Loss of Essential Services
12. Future Treatment and Expenses
13. Pain and Suffering
14. Prior Injuries
15. Psychological Injuries
16. Personal Injury Claim Settlement (evaluation of a claim)
17. Car Accident Injury Claim and Burden of Proof
18. What affects compensation for back and other injury claims
19. A word about Head Injuries

Making a Personal Injury Claim: Steps 1 to 5
Making a Personal Injury Claim: Steps 6 to 10
Pain and Suffering Reimbursement
Damages Calculation
Injury Demand Letter - How to write one
When to write an Injury Settlement Demand Letter
The Actual Injury Demand Letter (Format)
Find a Qualified Attorney in Your City
---
For a Free Review of Your Case
Please Call (866) 878-2432
---