Winter Driving Tips
Winter Center
Are you looking for winter driving tips?
With snow in the forecast, I urge motorists to prepare for winter driving conditions before the snow hits. Preparation is the key to preventing breakdowns and car accidents.
If you live in a territory where snow is inevitable (Washington and Northern Idaho, for example), note that reports show that AAA road assistance expects to assist over 140,000 motorists this winter (Nov. 1 – Feb. 28).
Many of these winter breakdowns are preventable by doing some light vehicle maintenance, following some simple winter driving tips, and preparing for adverse driving conditions.
Prepare Your Vehicle
A maintenance inspection by your mechanic is always recommended this time of year. However, there are many things that you can do to prepare for winter driving conditions.
Always consult your vehicle's owner's manual and with your mechanic before performing any of these tasks:
Batteries
Recharge or replace weak batteries.
Make sure the battery posts are clean of corrosion.
Check the battery case for cracks and bulging.
If appropriate, check the fluid levels of the battery.
Tires
Colder temperatures cause tire pressure to decrease. Under-inflated tires affect acceleration, lateral traction, braking grip and fuel economy.
Make sure tires are properly inflated and in good condition.
Uneven wear indicates improper inflation or the need for a wheel alignment.
When tread depth decreases to three-sixteenths of an inch, tires should be replaced.
Windshield Wipers and Washer
Wipers should be checked for proper functioning and streaks.
Replace blades every 6 months.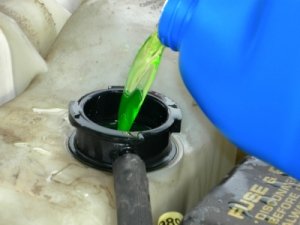 Fill your washer reservoir bottle with a nonfreezing washer solvent.
Engine Oil
Change oil between 3,000 and 7,500 miles depending on the manufacturer's recommendations and driving conditions.
Transmission fluid should also be checked.
Lights
Check headlights, side-marker lights, emergency flashers, parking lights, directional signals (front and rear), taillights and brake lights for proper operation.
Brake System
Brakes and brake fluids should be checked and properly adjusted to ensure equal braking.
Heating and Cooling System
Check the radiator and hoses for leaks and cracks.
Add a sufficient amount of antifreeze if it is low.
Test the heater and defroster for proper operation.
Prepare a Winter Driving Kit Including:
Tire chains
Traction mats or a small bag of abrasive material (sand, salt or cat litter)
Small snow shovel and snow brush
Flashlight
Ice scraper
Booster cables
Blanket
Hat, gloves, warm clothing, rain coat
First Aid kit
Food, water
Tire gauge
Warning devices (flares or triangles)
Driving Tips
1. Driving Tips (1 to 5)
2. Driving Tips (6 to 10)
3. Driving Tips (11 to 15)
4. Winter Driving Tips for your car
5. Winter Driver Tips for the driver
6. Winter Car Accidents
7. Snow Tires Regulation
8. Traffic Ticket eBook
9. Beat your Speeding Ticket
Accident Scene
1. Beat your speeding ticket eBook
2. Do I get out of the car?
3. Do I move the car after the crash?
4. Do I have to call the police after an accident?
5. What to do while waiting for the police!

6. What to do when the police gets there?
7. What to do if the paramedics come to the scene of the accident
8. Should I go in the ambulance from the vehicle accident scene?
9. Should I go to the emergency room after an accident?
10. Do I have to report the claim?