Ask an Attorney a Question for FREE!
The Declarations Page
A mistake on this document can be devastating!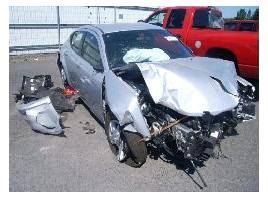 The declarations page is the document that lists names, vehicles, vehicle identification numbers (VINs), coverages, limits, deductibles, discounts, etc.
This document is the bottom line of your coverage and it is usually just one page.
This is the first document you want to look at.
It will list what coverages you have and thus let you know what coverages you do not have. If a coverage is not listed here, then you do not have that coverage (even if your agent told you that you were covered).
If a name is missing, then that person is not a named policy holder (different from an insured, she could still be an insured).
If vehicles are missing, then those vehicles are uninsured! Or if the vehicle identification numbers or VIN numbers have mistakes on them, then there is no coverage (a coverage investigation must be done to determine if coverage could extend to a vehicle, but this can be a long process).
My point is - this is a very important page (pages in the case of many vehicles).
When you are buying insurance, the declarations page is what the agent will be showing you. You must make sure that there is no mistake in any of its lines.
You do not want to be denied coverage because you own a Toyota truck, but somehow you are paying premium for a Toyota van.
This happens very often, and even if the insurance company agrees that this is a good faith mistake, it can take months to determine if they will pay or deny coverage (most of the times they deny coverage).
This document controls the entire claim between an insured and his/her insurance company.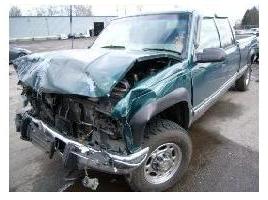 If you do not have your declarations page on hand, you will be unable to read your policy and you will not know what you have for coverage.
Contact your agent and have them provide you with an up-to-date declarations page before you get into an accident.
It is better to have a copy in your records now, than having to call your agent or your claims adjuster to provide you one after an accident.
If your insurance company is presently investigating a claim, it might take them a long time to send you this document. Some insurance carriers claim that it is difficult to find the exact document you filed. Few consumer protection groups argue that this is not the case and that insurance companies delay because they want to take advantage of the situation.
You simply do not know (in writing) what is and what is not covered. Do not allow that to happen.
A declarations page looks like this: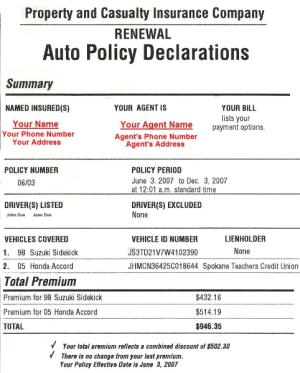 The first page will list:
policy period;
drivers listed;
drivers excluded;
vehicles that are covered;
lien holder the insurance company will protect;
If you do not have a lien holder (a bank loan) then make sure your agent knows that. See more on financial responsibility clauses.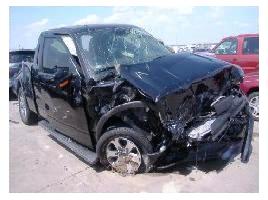 Pay attention to what drivers are excluded. If your son or daughter is listed as excluded, then coverage will apply to ANY person driving your car except for your son or daughter.
Some agents have been very clever by selling you insurance and then excluding you or your family members from coverage. In a dispute, it will be your word against theirs.
This is clearly illegal, but I have seen it happen. Please read this page carefully. Compare your VIN Numbers and make sure that they are correct. See more on this subject here.
Learn How to Read Your Auto Insurance Policy
Auto Policy Declarations Page
Auto Dec. Page II
The Auto Policy Part I
The Policy Part II
Read Your Policy Endorsements
---
For a Free Review of Your Case
Please Call (866) 878-2432
---