Ask an Attorney a Question for FREE!
Indiana Insurance Laws
Indiana Insurance Laws require the auto policy minimums in the state to be as follows: $25,000 for Bodily Injury Liability coverage per injured person, $50,000 Bodily Injury Liability coverage for all injuries per accident, and $10,000 for Property Damage Liability coverage. This is also known as the 25/50/10 coverage.
What is Your Case Worth in Indiana?
Ask a Lawyer Now!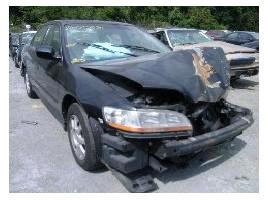 Indiana uses the Tort system to determine who is liable for a particular accident. In other words, of the parties involved in the accident, someone must be found to be at fault. The party found to be at fault (together with his insurance provider) will be responsible for all the damages incurred in the said accident. The particulars of a tort system are different from state to state. Indiana follows the Modified Comparative Fault -- 51 Percent Bar Rule. This means that a party cannot recover for damages in an accident he is involved in if he is 51 percent or more at fault. If he is 50 percent or less at fault, he can recover for damages but his recovery would be decreased by the extent of his fault.
Another essential coverage is the Uninsured /Underinsured Motorist Bodily Injury coverage. This will cover for the damages you incur if the other party involved in the accident does not have sufficient coverage (in the case of an uninsured motorist, no coverage at all). Indiana Insurance Laws do not require its drivers to have this particular coverage but it is one you should think of buying.
Auto insurance policies are quite expensive. But there are ways to reduce the rates. Below are some tips on how to lower your insurance costs.
Insurance providers sometimes offer discounts. Ask your agent about the types and the amount of discounts they offer and see if you can avail of any one of them. Some give discounted rates for a portion of your coverage. Some also offer discounted rates for the entire premium.
Raise your deductible to the highest value you can afford. This will significantly lower your coverage rates. Do remember that the higher your deductible is, the more you have to pay out of your own pocket each time you have a coverage claim.
Indiana insurance laws, in some instances, require that you carry more than one type of insurance. If this is the case, try to be insured for all your insurance needs to one company only. You will most likely get a discount from your insurer if you do this.
As much as you can, keep a good driving record. Insurance providers charge higher premium rates to high risk customers (those with not so good driving records). You not only save yourself significant amount of money, you also save yourself from the turmoil of an accident.
Before you decide on the type of vehicle you want to get, check first with your insurance provider. Some autos are more expensive to have insured than others. Checking with your insurance agent first can help you decide which vehicle is best for you financially in the long run.
Indiana insurance laws can be different from the insurance regulations of other states. The table below will give you a good summary of the essential insurance regulations in Indiana.
Indiana Insurance Laws
Jurisdiction
Modified Comparative Fault -- 51 Percent Bar
Liability Insurance required?
Yes
Personal injury liability maximum for one person injured in an accident.
$25,000
bodily injury liability maximum for all injuries in one accident.
$50,000
property damage liability maximum for one accident.
$10,000
PIP required?
No
No-fault state?
No
Uninsured motorist coverage required?
No
Bodily Injury Statue Of limitations
2 Years
Property Damage Statute of Limitation
2 Years
Small Claims Court Maximum Limit
$6,000
Back to all 50 states insurance laws and regulations.
For a Free Review of Your Case
Please Call (866) 878-2432
---