Ask an Attorney a Question for FREE!
Missouri Insurance Laws
Missouri requires its drivers to carry a minimum of $25,000 per injured person up to a total of $50,000 per accident as the Bodily Injury Liability coverage.
Missouri Insurance laws further require that its motorists be insured to a minimum of $10,000 as Property Damage liability coverage. This minimum auto policy coverage is often called the 25/50/10 coverage with 25/50 UM limits.
Further state insurance limits are given below:
Bodily Injury Liability: $25,000/$50,000 minimum
Property Damage Liability: $10,000 minimum
Uninsured Motorist Bodily Injury: $25,000/$50,000 minimum
The State of Missouri operates under a Tort System. This means that a party must first be found liable for causing the collision. Upon identification of the at-fault party, Missouri Insurance laws mandates the said party and his insurance company to pay for all damages he has caused due to his negligence. The particulars of a Tort system differ from one state to another.
What is Your Case Worth in Missouri?
Ask a Lawyer Now!
Depending on the type of auto insurance policy purchased, if you (the policyholder) were negligent or were responsible for the occurrence of an accident and/or collision then your insurance provider may opt not to cover for the damages you caused if the said accident and/or collision has undoubtedly a hint of being intentional.
There are times that in cases like this the insurance providers refuse to give coverage altogether for the damages incurred by the policyholder. Be certain that you fully understand the stipulations in your auto policy, the insurance laws of the state, your insurance limits and whether or not coverage exists.
Negligence Defined

Now, how de we define negligence? There is negligence when a party has a duty to act but has failed to act or had acted in a manner that does not conform to the set standards, had caused damages where damage actually occurred. There are situations where more than one party is at fault. This situation is called contributory negligence or comparative negligence.
Negligence may be assigned in varying degrees to all the parties involved. The degree of liability assigned to a party is proportional to the gravity of the fault and/or damages caused by that party. Rules on the assignment of fault vary from state to state.
Implications on Insurance Coverage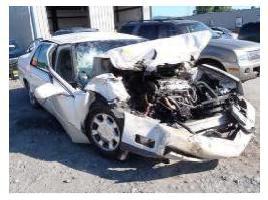 The insurance coverage provided to the policyholder is dependent on the percentage of fault assigned to the said policyholder. For example in a no-fault situation, after the deductible is settled, all damages are covered regardless of who is liable. In situations where fault is divided amongst the parties involved, most insurance providers will reduce the amount of coverage to a percentage proportional to the degree of fault of the insured. Check your auto policy and see what your insurance language says of this issue.
Missouri Insurance laws adapt the comparative negligence system. Here, a damaged party may still recover for his damages even if he was partly to blame for the occurrence of the collision. The damaged party's recovery though is reduced and even prohibited depending on the seriousness of his negligence that contributed to the collision.
Missouri Insurance Laws
Jurisdiction

Pure Comparative Fault

Liability Insurance required?
Yes
Personal injury liability maximum for one person injured in an accident.
$25,000
bodily injury liability maximum for all injuries in one accident.
$50,000
property damage liability maximum for one accident.
$10,000
PIP required?
No
No-fault state?
No
Uninsured motorist coverage required?
Yes
Bodily Injury Statue Of limitations
5 Years
Property Damage Statute of Limitation
5 Years
Small Claims Court Maximum LimitS
$3,000
Back to all 50 states insurance laws and regulations.
For a Free Review of Your Case
Please Call (866) 878-2432
---