Ask an Attorney a Question for FREE!
North Carolina Insurance Laws
North Carolina Insurance laws regarding auto insurance limits are rather minimal and straightforward. All motorists in the state are required to carry minimum auto insurance protection. Liability insurance coverage will provide payment for bodily injury sustained and for damages and/or destruction to property resulting from an accident.
What is Your Case Worth in North Carolina?
Ask a Lawyer Now!
As per the state insurance laws, all motorists must maintain a minimum coverage of $30,000 per injured person in a single accident up to a sum of $60,000 for the combined bodily injury expenses of two or more persons involved in any single accident. Also, liability coverage of $25,000 for any single accident must be maintained to cover for damages to property.
The particulars of the state insurance standards are summarized below.

North Carolina Limits for Auto Insurance Liability Coverage:
This basic coverage is often called the 30/60/25 coverage with 30/60 UM limits.
A minimum Bodily Injury Liability coverage of $30,000/$60,000 Limit
A minimum Property Damage Liability coverage of $25,000 Limit
A minimum of Uninsured Motorist Bodily Injury of $30,000/$60,000 Limit
A minimum of Uninsured Motorist Property Damage of $25,000 Limit
Comprehensive coverage and Collision coverage are not required by North Carolina insurance laws. However, most drivers have the need to purchase these coverages because of the financial security these coverages extend. When purchased, Comprehensive and Collision coverage will pay for the repair or the replacement of damaged parts your vehicle sustained in the accident. So long as coverage exists, Comprehensive and Collision coverage will take care of the "necessary" expenditures. When you get in an accident without Collision coverage, you will be forced to pay for the repair of your vehicle's damages out of your own pocket. This will be a very large amount especially if the damaged vehicle is a new one. It is a good thing that lending establishments usually require you to carry comprehensive coverage on a new vehicle if you still have not yet paid off the auto loan.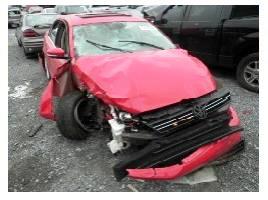 North Carolina Insurance laws permits a policyholder to waive the Underinsured/Uninsured Motorist coverage or UM/UIM coverage as long as he does so in writing. However, it is highly advised that you carry this particular coverage as well. This will cover for damages you incur from an accident with an uninsured motorist. It will also cover for losses sustained from a collision with a motorist whose insurance policy limit is not sufficient to cover your entire needs. Your UM/UIM coverage will pay for the remaining losses the underinsured's auto policy fails to cover for. The UM/UIM coverage, though, offers protection for bodily injury only. It does not cover the ensuing property damages.
The state of North Carolina is a Tort state. Here, someone must first be identified as liable for the collision. The responsible party and his insurance provider are then required by North Carolina Insurance laws to pay for all the ensuing damages. The details of the Tort system however, differ from one state to another. Check with the Department of Insurance to know the rules that apply to your state.
North Carolina Insurance Laws
Jurisdiction

Pure Contributory Negligence

Liability Insurance required?
Yes
Personal injury liability maximum for one person injured in an accident.
$30,000
bodily injury liability maximum for all injuries in one accident.
$60,000
property damage liability maximum for one accident.
$25,000
PIP required?
No
No-fault state?
No
Uninsured motorist coverage required?
Yes
Bodily Injury Statue Of limitations
3 Years
Property Damage Statute of Limitation
3 Years
Small Claims Court Maximum Limit
$5,000
Back to all 50 states insurance laws and regulations.
For a Free Review of Your Case
Please Call (866) 878-2432
---