Ask an Attorney a Question for FREE!
Can I get sued for toay off a loan if the payoff of a vehicle doesn't cover the loan
My son hit another vehicle. There was no personal injury. My insurance company is totalling the other vehicle and the owner is threatening to sue me for the difference he will owe on his loan after payoff.

Am I responsible for paying the difference?

Answer:

Hello,

You are responsible for the fair market value of the vehicle. That is what the insurance company is supposed to pay. If there is a difference between that and the amount of the loan, then that is not your fault.

The insurance company must provide you with an attorney if this goes to court.

If you go to small claims court, then if you lose, then insurance company may be bound by the judgment.

Contact the insurance company and seek their advice.

I hope this helps.


How Much is Your Case Worth?
Ask a Lawyer Now!
Good Luck,
Auto Insurance Claim Advice
Subscribe to our Free Newsletter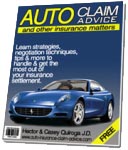 Join our free monthly subscription with tips, news, articles, negotiation techniques, and more about insurance companies and their claim process.
Join in and write your own page! It's easy to do. How? Simply click here to return to Got Questions?.
Please see more answers to recent personal injury and auto accident questions below:
---
For a Free Review of Your Case
Please Call (866) 878-2432
---