Ask an Attorney a Question for FREE!
Car accident involving 3 year old
by Kelsie
Last night me and my husband and our 3 year old daughter were in the car when we noticed a bus coming towards us at speed, My husband stopped the car so we were stationary expecting the bus to also slow down but it never, which meant the bus went straight down the side of our car causing it to move alot and alot of damage, we were all fine last night.

However my little girl was up all night being sick. Could this be anything to do with the collision? What injuries could be sustained from this type of accident?


Answer:


Hello Kelsie,

Wow, a bus hit your car, caused a lot of damage, and your daughter is up all night? You need to get to a doctor to have her check out. Yes, it could be related. It is crucial for you to have your daughter look by doctor.



How Much is Your Case Worth?
Ask a Lawyer Now!
Good Luck,
Auto Insurance Claim Advice
Subscribe to our Free Newsletter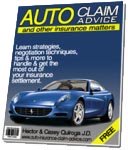 Join our free monthly subscription with tips, news, articles, negotiation techniques, and more about insurance companies and their claim process.
Join in and write your own page! It's easy to do. How? Simply click here to return to Got Questions?.
Please see more answers to recent personal injury and auto accident questions below:
---
For a Free Review of Your Case
Please Call (866) 878-2432
---