Ask an Attorney a Question for FREE!
Car ran red light and hit our truck. Now what?
by Dodge Dakota Owner
(Minnesota)
Police report was filled, police determinted othe guys' fault. His ins expired 10 days ago. What happens to our claim. What about car rental?

My husband with 2 kids in the truck were hit by a car that ran a red light. In turn the force of impact pushed his truck to hit the car in the next lane.

The police filed a report, a witness told that the other guy ran the red light. The Red light runner was not accepting fault. The police determined it was his fault. Our truck is in the shop since Thursday and it is going to be Monday morning.

The shop had said they would need to look at the truck problem before they can give us an estimate on repair and time it would take, meanwhile we are struggling without a second vehicle.

If we rented a car would the other guy pay for it, my husband said our insurance said that they do not have to pay for the rental car. Also is it unreasonable to expect answer from the repair shop by now. The airbags did no go off, but the truck was undrivable. There is damage on both sides of the truck.

Answer:


Hello Dodge Dakota Owner,

We are sorry to hear about your situation. The driver (the at fault drive) must pay for your damages. However, if that person does not have any insurance, then you are left to try to recover your damages not paid by your own insurance company (your deductible and your rental).

This can be very difficult and could take a long time. This is one of the reasons you want to carry uninsured or underinsured motorist coverage.

Good Luck,
Auto Insurance Claim Advice

How Much is Your Case Worth?
Ask a Lawyer Now!
Subscribe to our Free Newsletter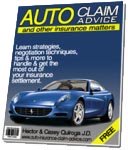 Join our free monthly subscription with tips, news, articles, negotiation techniques, and more about insurance companies and their claim process.
Join in and write your own page! It's easy to do. How? Simply click here to return to Got Questions?.
Please see more answers to recent personal injury and auto accident questions below:
---
For a Free Review of Your Case
Please Call (866) 878-2432
---