Ask an Attorney a Question for FREE!
Fender Bender and high repair estimate
On September 20, I was stopped at a red light when my foot slipped off the break and I bumped the car in front of me at idle speed. I gave the driver of the vehicle in front of me my information and asked if she wished to call the authorities and file a report. She declined.

The damage was negligible, nothing more than a paint chip. Driver told me she would be getting a quote for the repair at a local body shop that weekend. Did not hear from her until November 8 when she called to tell me she had just gotten an estimate which was outrageously high. She also mentioned she had not actually taken her vehicle into the shop.

I asked that she mail me the estimate so that I may decide whether I was prepared to pay for the repair.

I suspect that the driver sustained additional damage to her vehicle in the intermittent month and a half and is now attempting to get me to pay for it. My question is: if I suggest she file a claim with my insurance, isn't the likelihood of her claim being denied rather high because of the time that has elapsed since the minor accident (nearly two months) and due to the fact that there is no police report documenting the damage?

Answer:


Hello,

Well, you caused the damage and you do have coverage, so your insurance company will likely review the claim and pay for what you owe.

That may be more than you think, but maybe not as much as she is claiming. It is hard to say.

Many times vehicles have to be painted and that takes some money (take the part off, paint, blend, and let dry, then put back together). If this takes more than a day, you may owe for a rental car.

On the other hand, if the damage is truly "negligible" then the insurance company may give you an appearance allowance.


How Much is Your Case Worth?
Ask a Lawyer Now!
Good Luck,
Auto Insurance Claim Advice
Subscribe to our Free Newsletter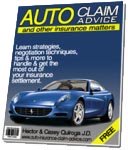 Join our free monthly subscription with tips, news, articles, negotiation techniques, and more about insurance companies and their claim process.
Join in and write your own page! It's easy to do. How? Simply click here to return to Got Questions?.
Please see more answers to recent personal injury and auto accident questions below:
---
For a Free Review of Your Case
Please Call (866) 878-2432
---