Ask an Attorney a Question for FREE!
Hit by driver with lights off 1/2hr after sunset
by JT
(kentucky)
My wife was setting still in a Left Turn Lane, waiting on traffic to pass before making her turn across a 4 lane Bypass onto a two lane highway. The oncoming traffic passed and she started her turn. Half way across the two lanes she was hit by a driver that didn't have their headlights on. It was exactly 20 minutes after sunset and the weather was cloudy. The driver that did not have their lights on apologized to my wife and the police admitting fault.

My problem is that This guys INS says that my wife is partially to blame because he had the right of way. But his lights were off and she couldn't see him. It was dark out.
Is the INS right? If you pull out in front of someone with their lights off can you be partially at fault??


Answer:


Hello,

We think so. Making a left turn when other vehicles have the right of way put a big duty on that vehicle. The light issue could be a big one, depending on how dark. It was not completely dark, but again, that vehicle had the right of way.

Please see more about fault here please see: http://www.auto-insurance-claim-advice.com/Fault-for-the-Accident.html


Good Luck,
Auto Insurance Claim Advice

How Much is Your Case Worth?
Ask a Lawyer Now!
Subscribe to our Free Newsletter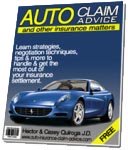 Join our free monthly subscription with tips, news, articles, negotiation techniques, and more about insurance companies and their claim process.
Join in and write your own page! It's easy to do. How? Simply click here to return to Got Questions?.
Please see more answers to recent personal injury and auto accident questions below:
---
For a Free Review of Your Case
Please Call (866) 878-2432
---