Ask an Attorney a Question for FREE!
Hit while making an illegal u turn
by Tami
(Georgia)
In 2 turning lanes in GA, I was in the right lane and car that hit me was in the left. As we both made u turns her car came into my lane and hit me at beginning of my back driver side door and scraping to the front of my car.

I was not cited but told by the police I may be at fault because my u turn was not lawful.

I question this because the other driver had ample time to see me and clearly could have avoided hitting me. No police report was written and no citations given. I'd like to know who is at fault or if fault is shared. Thank you.

Answer:


Hello Tami,

Well, you both probably have responsibility in this accident. She will probably have more than you because she crossed to your lane, but you were still making an illegal turn.

This may or may not have an impact on how a claim is handled. Check your local statues for that. Contact an attorney locally.


How Much is Your Case Worth?
Ask a Lawyer Now!
Good Luck,
Auto Insurance Claim Advice
Subscribe to our Free Newsletter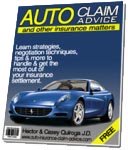 Join our free monthly subscription with tips, news, articles, negotiation techniques, and more about insurance companies and their claim process.
Join in and write your own page! It's easy to do. How? Simply click here to return to Got Questions?.
Please see more answers to recent personal injury and auto accident questions below:
---
For a Free Review of Your Case
Please Call (866) 878-2432
---