Ask an Attorney a Question for FREE!
How can this be allowed?
by Tinamarie
(Bronx New York)
I was in an accident last December. I was in bumper to bumper traffic and was cut off by a 1998 Honda civic, who then stopped short and I hit him in the back.

There was no damage to my car at all, and my insurance company took pictures of my car less than 24 hours after the accident. I have a 2001 Honda Civic. The other party had previous damage to their bumper (there were bit chunks of their bumper missing) and are claiming that it was done by me.

There were three people in their car, one was removed by ems on a board. The other two did not appear to be hurt, but now all are claiming serious injury and are suing me for an undetermined amount in excess of my insurance will cover.

My insurance company says I should get my own attorney to handle any amount in excess of my coverage.

How can this be allowed to happen. I was in bumper to bumper traffic, and if I was doing 10 miles an hour that's alot - so how can I be sued for an undetermined amount with absolutely not even a scratch to my car?

Answer:


Hello,

Well, unfortunately yes. If your limits are low, with the price of doctor's bills today, you could be exposed even in a "no scratch" accident.

Your insurance company needs to protect you and try to settle within policy limits. There is no "get your own lawyer here." They must provide you with one. It is a good idea to have another one reviewing YOUR interest are protected.


Good Luck,
Auto Insurance Claim Advice

How Much is Your Case Worth?
Ask a Lawyer Now!
Subscribe to our Free Newsletter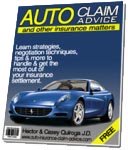 Join our free monthly subscription with tips, news, articles, negotiation techniques, and more about insurance companies and their claim process.
Join in and write your own page! It's easy to do. How? Simply click here to return to Got Questions?.
Please see more answers to recent personal injury and auto accident questions below:
---
For a Free Review of Your Case
Please Call (866) 878-2432
---