Ask an Attorney a Question for FREE!
How do I get the ins co to file fraud charges?
by Jody
(Stanfield, NC USA)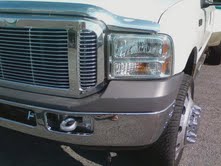 his truck
I backed into a man's truck 6 months ago. It was a small, and very crowded parking lot.

His truck has these big metal rings sticking out thru holes in the bumper. I hit one of the metal rings with the corner of my rear bumper.

There was not a scratch on his bumper. I did not know at the time that my insurance had lapsed. I was waiting on my renewal packet from my ins co. It never came. The man was standing less than 6 ft in front of my car at the time of the accident and didn't even know I had hit his truck.

I got out and went to him and told him that I didn't see any damage but wanted him to look at it. He went straight to the grill and started shaking it and said that I had broken the bracket and that his headlight was knocked out of alignment. Being a former mechanic, I knew that that was already like that but I offered to pay out of pocket to keep from involving my ins in such a small claim.

He insisted on calling the Highway patrol. The officer even told him that if he did have any damage, he recommended that he let me handle it out of pocket. the man told me that he would get a couple of estimates the next day and call me.

A few days later, I got a call from my adjuster saying that he had filed a claim with us but that my policy was canceled. I went that same day and reinstated my policy. I waited for the man to call me. About 2 months later, I got a letter from his ins co saying that I had caused about 1600.00 worth of damage to his truck. Now I drive a little Hyundai Tucson and his vehicle is a Ford 250. He said that he had to remove the bumper before he could move the truck because the bumper was pushed back into the tire.

That's a lie. All of the damages they say I did are Lies. There wasn't a scratch on his truck, anywhere. I took pictures at the scene and two of my friends were there and saw that there was no damage but did not see the accident. I asked the adjuster to send me the estimate including pics.

There were no pics of the bumper. I emailed her twice and asked for pics of the bumper and she ignored me. I sent her the pics I took at the accident and the only thing showing on his bumper is the reflection of my feet. Now my license has been suspended and his ins co has sent this fake bill to a collections agency and they are threatening me with the Financial Responsibility Act.

What can I do to fight this. I live on a limited income and can't afford an expensive battle. I can't afford to pay this bill either, but if I could, I still wouldn't pay it because it is all lies.



Answer:


Hello Jody,

Well, that's the problem. You have to have insurance. The Financial Responsibility Act could take your driver license away. At this point, you have to consider small claims court to determine if the damage is in fact owed.

$1,600.00 is a high bill, but it can happen with rather small hits.

Ask to see the damages and review the estimate. Make sure you are paying for what you owe.


Good Luck,
Auto Insurance Claim Advice
Join in and write your own page! It's easy to do. How? Simply click here to return to Got Questions?.
Please see more answers to recent personal injury and auto accident questions below:
---
For a Free Review of Your Case
Please Call (866) 878-2432
---