Ask an Attorney a Question for FREE!
How much of a settlement can I expect?
by Cathleen
(Cincinnati, Oh)
In Nov of 2010, I was walking up a parking lot to my car and from nowhere, a woman backs up the middle of the lot, hitting the gas as though she forgot to put her car in drive out of reverse.

She hit me so hard that I went up and hit the ground directly on my knee. My knee cap was dislocated and I had to have therapy to use the knee again.

Luckily, nothing was broken but I was told that I now have a baker's cyst and the bruising can take months to heal. I still can do stairs the way I used to and can't put direct pressure on my knee anymore.

Answer:


Hello Cathleen,

Wow, you claim may be worth some money. Do talk to a lawyer, please see the form below for an estimate.

What you have to think about is whether this is a permanent injury. How much treatment you had? And if a doctor is willing to testify to this may be a of permanent nature. If that is the case, then your claim may be worth a good chunk.


How Much is Your Case Worth?
Ask a Lawyer Now!
Also, see this ebook if don't want to talk to an attorney (not advised).
http://www.settleyourowninjuryclaim.com/
Good Luck,
Auto Insurance Claim Advice
Subscribe to our Free Newsletter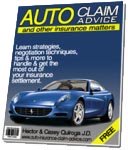 Join our free monthly subscription with tips, news, articles, negotiation techniques, and more about insurance companies and their claim process.
Join in and write your own page! It's easy to do. How? Simply click here to return to Got Questions?.
Please see more answers to recent personal injury and auto accident questions below:
---
For a Free Review of Your Case
Please Call (866) 878-2432
---