Ask an Attorney a Question for FREE!
I was hit by truck at stop sign on my bike
by MKZ
(CA)
I was hit on my bicycle while crossing the street and as I was crossing the guy hit the gas and ran into me.

He was stopped at a stop sign and I was on the sidewalk crossing in front of him. Both he and his wife looked at me. I went to the hospital and was injured. I got a lawyer and they got me into a Dr.

A month later I was told I was at fault because I was on the wrong side of the road. There is no bike lane or sidewalk on the other side of the road though.

The layer said he could fight it and told me to continue going to the Dr. Now four months later after all the Dr.s visits the layers are not answering my questions very well and are rude to me.

Do you think I will get my bills paid or any kind of settlement out of this?

I just want an answer instead of all these months of a run around. Thank you.

Answer:


Hello MKZ,

You need to contact your lawyer for this. They are the best people to answer your question. We have no clue what your settlement would look like.

please see: http://www.auto-insurance-claim-advice.com/bodily-injury-claim.html



How Much is Your Case Worth?
Ask a Lawyer Now!
Good Luck,
Auto Insurance Claim Advice
Subscribe to our Free Newsletter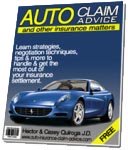 Join our free monthly subscription with tips, news, articles, negotiation techniques, and more about insurance companies and their claim process.
Join in and write your own page! It's easy to do. How? Simply click here to return to Got Questions?.
Please see more answers to recent personal injury and auto accident questions below:
---
For a Free Review of Your Case
Please Call (866) 878-2432
---