Ask an Attorney a Question for FREE!
Is it possible to report an accident to insurance if you didn't at the time of the accident?
by Amanda
(North Carolina)
I was in an accident about 2 months ago and it was the other driver's fault. I was coming around a curve where I couldn't see and she was coming from the other direction completely in my lane. We both slammed on breaks but couldn't quite stop in time and she scraped the corner of my car.

At the time there didn't appear to be any significant damage to my car and I thought it was just the paint.

She begged that we not put it on the insurance because she already had too many points on her license but promised that she would send me a check for the damages and the officer at the scene told me this was fine. I got it estimated for the bodywork that needed to be done and the lady wrote me a check as promised.

Now, about 2 weeks later my tire blew out on that same corner and I was told that it was caused by damage to the frame which could mean my car is totaled. The body shop i took my car to for the estimate didn't check anything but the exterior but i'm sure it was caused by that accident since there has never been another accident involving that car.

Is there any way that I could report it to insurance now so that I can get compensation for my totaled car? A police report was filed that states that she was at fault but is it too late to do anything about it now? However, I never got any of her insurance information so what would be the best way to go about collecting insurance?



Answer:


Hello,

You can make a claim still. They will try to say that her payment was a settlement, but unless you singed a release of claim, you can still make the claim.

Usually you have a "reasonable" time to make a claim. Two months may or may not meet that. It does seem that you have a good reason (you had discuss it with their insured).

I hope this helps,

Good Luck,
Auto Insurance Claim Advice


How Much is Your Case Worth?
Ask a Lawyer Now!
Subscribe to our Free Newsletter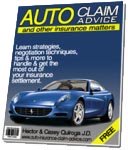 Join our free monthly subscription with tips, news, articles, negotiation techniques, and more about insurance companies and their claim process.
Join in and write your own page! It's easy to do. How? Simply click here to return to Got Questions?.
Please see more answers to recent personal injury and auto accident questions below:
---
For a Free Review of Your Case
Please Call (866) 878-2432
---