Ask an Attorney a Question for FREE!
Is my wheel and tire covered from running up on a curb by comp or collision?
by Joey
(Muscle Shoals, Al.)
I was driving through a Krispy Kreme drive thru which has high, sharply angled edges and a tight squeeze.

Also, a near 90 degree angle, and a retaining wall on the side opposite the store side. I caught the curb with my rear wheel which damaged my rim and took a chunk out of my tire. Is this comp or collision?

The damage is over $700 w/ our deductible being $250. My main concern is we just had a recent car v/s parking lot pole accident claim a few month ago.

I believe it was considered collision. Also, would I have any recourse against Krispy Kreme considering their lack of engineering skills for a proper drive thru?


Answer:


Hello Joey,

You collided with the curb. It's a collision.

Can they be liable. Well, they will probably argue they did not design or construct this place. They likely rent it.

Either way, this is a difficult claim (construction defect). You can make the argument, but the curb was there to be seen. It would be hard to win.


Good Luck,
Auto Insurance Claim Advice

Subscribe to our Free Newsletter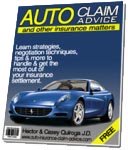 Join our free monthly subscription with tips, news, articles, negotiation techniques, and more about insurance companies and their claim process.
Join in and write your own page! It's easy to do. How? Simply click here to return to Got Questions?.
Please see more answers to recent personal injury and auto accident questions below:
---
For a Free Review of Your Case
Please Call (866) 878-2432
---