Ask an Attorney a Question for FREE!
Left Turn Madness | Fault?
I was at a busy intersection facing east.

My light was red with a "no turn on red sign" The traffic heading west had the green light and the arrow for those turning left.

My light turned green and proceeded through the intersection attempting to go right (not a sharp right but veering off to the right onto a side street). I hit the side of a vehicle that obviously tried to turn left after the arrow had gone off.

Who's at fault? I would assume the other person because they had to have turned after the arrow went off or else they would have cleared the intersection by the time my light turned green. So why has the insurance company taken 3 weeks to place fault...Please help!!

The report states the other vehicle failed to yield, and I had vision obstruction. What does that mean...I'm in Ohio by the way

Answer:


Hello,

The delay is probably a dispute of facts by the other driver? They are probably arguing that you had the red light and they still have the green.

You do have a police report which helps your case. The only issue here is going to be the fact that you still may have some fault on this accident. Even if the light is green, you must make sure there is no vehicle there or that all other traffic has stopped. The fact that you had a vision obstruction may help mitigate that.

It's hard to say. If they take longer or claim you at fault, you will need to talk to your insurance company. It is advised that you that.


Good Luck,
Auto Insurance Claim Advice


How Much is Your Case Worth?
Ask a Lawyer Now!
Subscribe to our Free Newsletter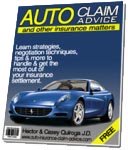 Join our free monthly subscription with tips, news, articles, negotiation techniques, and more about insurance companies and their claim process.
Join in and write your own page! It's easy to do. How? Simply click here to return to Got Questions?.
Please see more answers to recent personal injury and auto accident questions below:
---
For a Free Review of Your Case
Please Call (866) 878-2432
---