Ask an Attorney a Question for FREE!
License Suspension for Not Having Insurance
by Breanna
(Columbus OH)
I got dropped off at work on the 11th of August because my SR22 insurance lapsed and I didn't want to get in trouble for driving.

While at work I got a call that one of my sisters friends got into an accident in my car.

I didn't give any permission for anyone to drive my car, but I didn't say for anyone not to drive it either.

The cops were called, but never came out because, "If no one was hurt, they had more important issues to deal with".

I got a letter from the dmv saying that my license would be suspended for a year because there wasn't any insurance on the car. How am I being held responsible if I can prove that I was at work?

Thank You


Answer:


Hello Breanna,

Well, you have a duty to insured your vehicle AND make sure that is being driven fully covered.

They dropped you off at work in your vehicle, but then they drove your vehicle somewhere else? The vehicle should not be on the road without insurance.

You may or may not have a defense to the suspension, but you do want to talk to an attorney who deals with that.



How Much is Your Case Worth?
Ask a Lawyer Now!
Good Luck,
Auto Insurance Claim Advice
Subscribe to our Free Newsletter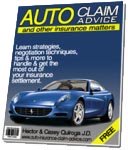 Join our free monthly subscription with tips, news, articles, negotiation techniques, and more about insurance companies and their claim process.
Join in and write your own page! It's easy to do. How? Simply click here to return to Got Questions?.
Please see more answers to recent personal injury and auto accident questions below:
---
For a Free Review of Your Case
Please Call (866) 878-2432
---