Ask an Attorney a Question for FREE!
Making a left turn across stopped traffic | Fault?
by Greg
(Charlotte NC)
I was in a turning lane waiting to turn left onto a side street, traffic stopped (gridlocked) and left a space for people turning left to cross, the driver on the inside lane motioned for me to come across in front of him.

As I began to cross I noticed the car in the right or outside lane starting to roll forward and she was looking off to the right, I stopped and barely had enough time to honk my horn and she still hit me.

I called my insurance company and explained my side of the story (after calling the police and getting a police report) and when I was contacted back about who was at fault they said I was at fault.

How is this possible, I am trying to dispute liability with my insurance company right now I just would like some kind of clarification.

Answer:


Hello Greg,

I am sorry to hear this. The other vehicle had the right of way. A vehicle merging and /or making a left must yield the right of way. The fact that you did not and did not have to do much is evidence that you failed to look out.

You are likely at fault, you can fight for a percentage if you like, but you will likely be found more at fault than the other driver - at a minimum.

Good Luck,
Auto Insurance Claim Advice


How Much is Your Case Worth?
Ask a Lawyer Now!
Subscribe to our Free Newsletter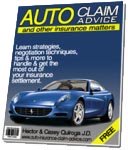 Join our free monthly subscription with tips, news, articles, negotiation techniques, and more about insurance companies and their claim process.
Join in and write your own page! It's easy to do. How? Simply click here to return to Got Questions?.
Please see more answers to recent personal injury and auto accident questions below:
---
For a Free Review of Your Case
Please Call (866) 878-2432
---