Ask an Attorney a Question for FREE!
Minor 3 car accident
by Jeremy
(Hampton Roads VA)
My wife was the front vehicle involved in a 3 car accident. A VW coupe rear ended her and a Ford van rear ended the VW coupe. My wife only felt one impact and the roads where wet that morning. There is only about $500 dollars worth of damage to our Honda Ridgeline.

My wife was 8 months pregnant at the time and ended up going into labor 3 days later, 7 weeks early. She was carrying twins, one spent 8 days in NICU the other spent 3 weeks and has a heart arrhythmia.

We havent pressed for any medical anything but we figured that it would be two hard to prove that the accident had anything to do with early labor especially since it was twins and twins are prone two that. All I wants was to get our truck fixed. Both Liberty Mutual the VW insurer and Allstate the Form vans insure have denied our claim saying it was the others fault.

We have USAA and have not been able to get anywhere with them. I spoke to two lawyers who showed no interest due to the lack of damage to vehicle and early labor prone with twins.

The Police on the scene said that the guy in the van was most likely at fault and gave us his insurance information.

What can I do from here, again all we really want is to get the truck fixed?

Answer:


Hello Jeremy,

Well, this is interesting. Two lawyers showed not interest? - If are 100% sure, and after consulting with a third attorney, you cannot get anything result, you can initiate suit in small claims. You can name both drivers. They are most likely "jointly and severally" liable. Very important that you talk to an attorney before you make any move.

They will have to pay you for your damages AND THEN figure out who owes what and pay themselves.



How Much is Your Case Worth?
Ask a Lawyer Now!
Good Luck,
Auto Insurance Claim Advice
Subscribe to our Free Newsletter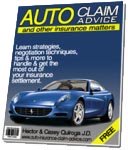 Join our free monthly subscription with tips, news, articles, negotiation techniques, and more about insurance companies and their claim process.
Join in and write your own page! It's easy to do. How? Simply click here to return to Got Questions?.
Please see more answers to recent personal injury and auto accident questions below:
---
For a Free Review of Your Case
Please Call (866) 878-2432
---