Ask an Attorney a Question for FREE!
Needing a rental car during vehicle repairs
by Stachelle
(Texas)
I was on a highway where the north bound lanes are elevated over the south bound lanes creating a steep hill-like median. Myself traveling in the inside southbound lane and another driver heading north lost a tire. Not only did he lose the tire, it broke off of the axle, zipped across both of the north bound lanes, down the hill and into the side of my 2004 Chevy Cavalier.

After stopping to inspect the damage, speak with the other party and deal with the cops we went on our separate ways. We each spoke with our insurance companies and theirs claimed liability and agreed to pay for the damages to my car.

Although the car is still technically drivable and I did opt to drive it home, I was worried that the doors would eventually give before I could get it to the repair shop while I was waiting on the insurance company to send an adjuster.

When I sought out a rental car they explained that they only would pay for one for 3 days. At this point the adjuster had already visited, but I needed a rental to get around. My car is in the shop and will be a week at least before I can get it back. Should the insurance company pay for the extra days needed and if so how can I make them pay? Or am I just on my own for the extra charges?

Answer:


Hello Stachelle,

You are entitled to a rental car while the vehicle is being repaired. The three day limits applies to total loss vehicles.

If they are fixing the vehicle, this is not a total loss, by definition.

Contact the Department of Insurance and file a complaint against the insurance company. This will help them come to the proper conclusion.


How Much is Your Case Worth?
Ask a Lawyer Now!
Good Luck,
Auto Insurance Claim Advice
Subscribe to our Free Newsletter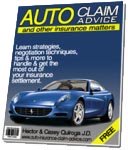 Join our free monthly subscription with tips, news, articles, negotiation techniques, and more about insurance companies and their claim process.
Join in and write your own page! It's easy to do. How? Simply click here to return to Got Questions?.
Please see more answers to recent personal injury and auto accident questions below:
---
For a Free Review of Your Case
Please Call (866) 878-2432
---