Ask an Attorney a Question for FREE!
Not at fault for this accident!
On October 27 I was hit... I was making a left all the cars on sight yield by the time I was actually making a left the light turned red.. at that time the car hit me.. I was able to turn around and head over where the car that hit was located...this car was clearly speeding.

He admitted it was his fault and she should of not been speeding he was in a rush...and i found later on that my insurance was suspended and I was driving with a suspended license..

We claimed the insurance and their blaming me for the accident when clearly it wasn't my fault I don't know what to do..

Answer:


Hello,

We think you may be at fault for this accident. You have at least some negligence here.

A. You are making a left turn. This puts a stronger duty on you to make sure everything is clear before you do that. The accident shows you did not make sure of that.

B. If the light changed, it should be yellow and then red. If there is not yellow, the only way people would be yielding to you is if you have a solid round green (not an arrow). If that is the case, YOU have to yield to incoming traffic (even if the other vehicle is speeding).

C. The light changed. You cannot be anywhere in the intersection where there is a red.

These are big issues of fault. Please see: http://www.auto-insurance-claim-advice.com/Fault-for-the-Accident.html

You can make the argument of speed, but at a minimum you are partially at fault.


How Much is Your Case Worth?
Ask a Lawyer Now!
Good Luck,
Auto Insurance Claim Advice
Subscribe to our Free Newsletter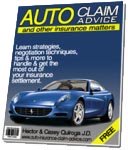 Join our free monthly subscription with tips, news, articles, negotiation techniques, and more about insurance companies and their claim process.
Join in and write your own page! It's easy to do. How? Simply click here to return to Got Questions?.
Please see more answers to recent personal injury and auto accident questions below:
---
For a Free Review of Your Case
Please Call (866) 878-2432
---