Ask an Attorney a Question for FREE!
One week old new truck in accident where individual was killed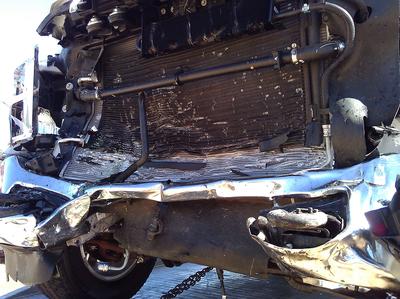 We purchased a new Ford F250 Diesel 2 weeks ago. Last week on way home a young man who was probably impaired (knowledge he was into drugs) ran a stop sign on coming of side road onto highway. It was dark, he did not have any lights on and our truck t-boned him. The truck ended up on top of him and had to be winched off and he had to be cut out of vehicle. He was airlifted to hospital.

Our truck was really messed up and towed. Adjuster asked where to have it towed to be looked at. I recommended Dealership but he said a private company. In the meantime, the other individual died and obviously no insurance.

The private shop gave estimate of 42% of cash value of the new truck, which no payments have even been made yet. The whole front end and possible damage to the engine could have been done.

We are trying to contact Ford on the factory warranty, as to where that puts us. I don't want the truck back and am concerned it will be trouble from here on out not to mention the other guy died and not able to trade or sell because of the damage that was done. It's a bad situation all around but I feel like I have no say in it.


Answer to One week old new truck in accident where individual was killed:

Hello,

I am so sorry to hear about this! Well. You have to check your policy. If you have uninsured motorist damage coverage, the insurance company will likely have to pay you for your economic loss (the diminished value of the truck because of the collision was caused by a third party, uninsured, and at fault).

You cannot make this type of claim under your own collision coverage (in most states, anyway), so it is very important that you talk to your agent and double check your coverage.

42% of the actual cash value may not be totally accurate. Make sure you ask for a complete tear down. Check our section on total loss.

Good Luck,
Car Accident claims
Join in and write your own page! It's easy to do. How? Simply click here to return to Got Questions?.
Please see more answers to recent personal injury and auto accident questions below:
---
For a Free Review of Your Case
Please Call (866) 878-2432
---