Ask an Attorney a Question for FREE!
Rear end collision but their insurance not paying due to salvage title.
by Warren
(Dallas, TX USA)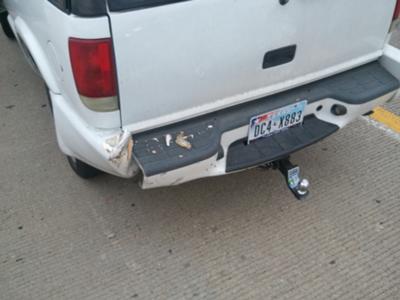 I was rear ended early December 2011. I was in a 99 GMC Jimmy and hit by a Hyundai Sonata. I was sitting still with traffic and hit by him over 15-20mph. Problem starts here: my truck has a salvage title and was apparently repaired by previous owner. When

I bought it I looked it over and did not see any frame damage period. I replaced the rear shocks and brakes so I was obviously right there for some time. Insurance adjuster came out and issued a check for the damage to the rear bumper and side skirt and paint.

I pointed out the damage I found to frame (which is two tears directly above rear axle and stops at the rivet holes), but the report mentioned nothing of the frame damage. Today we met up at Service King to put on the lift so further inspection could be done. She concluded that they were not going to pay because if it were repaired right it would have buckled the frame in specific points.

The frame is bent down from the axle back with small buckles where it arches up after cab.

My point being that the trailer hitch and receiver took the impact directly to the frame. I looked at the area and it looks as it were previously welded. With that being said why would the insurance find itself not liable because they "believe" it had been poorly repaired prior to the accident"?

Any suggestions on what to do. I contacted my insurance but they say they can't assist since the other insurance had already paid for some of the repair to the bumper. Thanks in advance. Warren in Dallas, TX

Answer to rear end collision but their insurance not paying due to salvage title.


Hello Warren,

Well, first, the claim that "the other insurance already paid" so there is nothing we can do is bogus. You are their insured and all it takes is an adjuster to be ready to handle the matter. This is especially true if you have collision coverage.

The issue with the salvage title is a difficult for you. You bough a vehicle was a total loss before, so the duty is on you to show that the vehicle was fixed properly (they can always point to the title to show that the car was in fact total, the burden of proof then will shift to you).

You are owed for the damage they caused you, so you have two options here.

1. Contact the department of insurance and file a claim and/or

2. File in small claims court against the person who hit you. Please see our section on small claims here. There are very important considerations before you file.
As always, you should talk to an attorney.


Good Luck,
Auto Insurance Claim Advice
Join in and write your own page! It's easy to do. How? Simply click here to return to Got Questions?.
Please see more answers to recent personal injury and auto accident questions below:
---
For a Free Review of Your Case
Please Call (866) 878-2432
---