Ask an Attorney a Question for FREE!
Rental Vehicle Claim for Damages and Insurance Expense
by Lawrence
(Collinsville,il)
My father-in-law was involved in an accident and the other person admitted fault. He only carries liability on his vehicle as it is a 1993 model.

The other insurance has totaled his vehicle as it would cost more to repair than it is worth.

My question is this: My father-in-law asked the other insurance if they would pay for a rental vehicle while the claim was in process and they told him that he could get a rental vehicle and they would pay for it -- however -- he would have to pay the insurance on the rental vehicle since he only carries liability on his vehicle. If the other person has full coverage and it is their fault, shouldn't he be entitled to a rental at no charge to him?

Thank You


Answer:


Hello Lawrence,

No. The vehicle is being rented for your father. He would have to have his vehicle insured.

Your argument is that this is an expense that he would not otherwise have if he was driving his vehicle as always. Some states will make the insurance company pay for that coverage, some will not.

We are not sure about your state. Contact a local attorney or the department of insurance to determine if this is owed or not.


How Much is Your Case Worth?
Ask a Lawyer Now!
Good Luck,
Auto Insurance Claim Advice
Subscribe to our Free Newsletter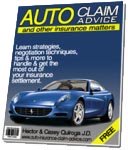 Join our free monthly subscription with tips, news, articles, negotiation techniques, and more about insurance companies and their claim process.
Join in and write your own page! It's easy to do. How? Simply click here to return to Got Questions?.
Please see more answers to recent personal injury and auto accident questions below:
---
For a Free Review of Your Case
Please Call (866) 878-2432
---