Ask an Attorney a Question for FREE!
Settled the case, without authorization.
by Joel
(Barboursville WV.)
On or about 08-08-11 I was involved in an accident. A person leaving a parking lot ran into my vehicle. They accepted liability and paid for the repairs less my deductable. My insurance company (without my permission) settled with the other insurance and sent me a check for 400.00.

My insurance told me that I was getting an extra hundred off for using their repair facility. My total out of pocket expenses were right at 600.00 plus 3 days lost time and 10 days loss of use, plus devaluation of vehicle.

The liable party has refused to return my calls, were should I go from here? I have not cashed the check for fear of accepting this ridiculous offer.

Thanks, Joel

Answer:


Hello Joel,

They settled what? The fault issue? The Repairs? Or the pain and suffering? Or all of it.

Typically, the insurance company does have the authority to settle the fault and damages, but not the pain and suffering. If you are injured this would be different.

If that is the case, check with an attorney.


How Much is Your Case Worth?
Ask a Lawyer Now!
Good Luck,
Auto Insurance Claim Advice
Subscribe to our Free Newsletter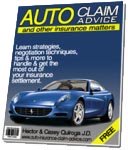 Join our free monthly subscription with tips, news, articles, negotiation techniques, and more about insurance companies and their claim process.
Join in and write your own page! It's easy to do. How? Simply click here to return to Got Questions?.
Please see more answers to recent personal injury and auto accident questions below:
---
For a Free Review of Your Case
Please Call (866) 878-2432
---