Ask an Attorney a Question for FREE!
Skid Accident
by Jerome
(Green Bay WI)
My friend and I were heading to work for 3rd shift, and we were going over a hill on a city roadway. I noticed a gentleman walking in the left lane of our lane the opposite way. As soon as we went over the hill,

A truck was parked sideways in the middle of the road, with no emergency lights on or anything.

Nobody was in the car. I hit it, and totalled my car. It was icy that night, and he said he skidded out. I had to go to the emergency room and suffered a concussion along with whiplash.

I was rushed via ambulance. He told the officer that he had been smoking marijuana a few hours earlier. Am I at fault for hitting him? Can I sue him in court?



Answer:


Hello Jerome,

Well, the Marijuana confession is damaging… just a little.

The critical question is for how long was the vehicle in the middle of the road. If he lost control a couple of seconds before, then you may be liable. If he left the vehicle there for a long time (say 30 minutes), then he is liable.

Either way, you can sue him in court (note, you always can). Consult with an attorney. Sounds like your injuries may be worth more than the normal accident.


How Much is Your Case Worth?
Ask a Lawyer Now!
Good Luck,
Auto Insurance Claim Advice
Subscribe to our Free Newsletter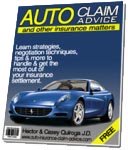 Join our free monthly subscription with tips, news, articles, negotiation techniques, and more about insurance companies and their claim process.
Join in and write your own page! It's easy to do. How? Simply click here to return to Got Questions?.
Please see more answers to recent personal injury and auto accident questions below:
---
For a Free Review of Your Case
Please Call (866) 878-2432
---