Ask an Attorney a Question for FREE!
Small claims court -- Lowe balled insurance estimate/payout
by Kurt
(MA)
A month ago, a lady rear ended my vehicle, She is insured with Liberty Mutual (LM). LM has assessed the damage at $2000. However, four reputable body shops in the Boston area from which I have received damage appraisals put the repair cost at $4000 - $5000.

I systematically made my case to LM in writing but to no avail. LM insists on paying $2000 and no more. I plan to take the matter to a MA small claims court.

Here are my questions:

Your website indicates that one option I have it to file the suit against the driver of the car that hit me. If I win, chances are that LM will pay for the damage since she is insured with LM.

A clerk at the small claims court in my town has told me that I need to file against BOTH the driver and LM. Is this true?

Do I have the option of filing against LM only?
If so, what may this NOT be the best route to go?

Thanks for you assistance
Thank you,


Answer:


Hello Kurt,

As noted in our website, this is general information only. If a clerk told you that, then you need to get some legal assistance to verify that is the case.

Why would LM be liable to you? They did not hit your car. Again, the best and only route is to talk to a local attorney.


Good Luck,
Auto Insurance Claim Advice

Subscribe to our Free Newsletter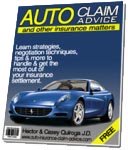 Join our free monthly subscription with tips, news, articles, negotiation techniques, and more about insurance companies and their claim process.
Join in and write your own page! It's easy to do. How? Simply click here to return to Got Questions?.
Please see more answers to recent personal injury and auto accident questions below:
---
For a Free Review of Your Case
Please Call (866) 878-2432
---