Ask an Attorney a Question for FREE!
Totaled other car
I was in a car accident in which a car and mine merged into the same lane at the same time.

State Farm declared the other driver's car a total loss and is only going to pay them what the car is worth. Does that make me responsible for that?

Answer:


Hello,

Who does State Farm represent? Are they your insurance company or theirs?

If State Farm is your insurance company, sounds like they declare you at fault and are paying for the other party's damages.

IF State Farm is not your insurance company, then you will have to talk to your carrier about this. If there is a dispute of who merged into the lane of who's, then this will likely go to mandatory arbitration before determining who is at fault, please see:

http://www.auto-insurance-claim-advice.com/arbitration.html


How Much is Your Case Worth?
Ask a Lawyer Now!
Good Luck,
Auto Insurance Claim Advice
Subscribe to our Free Newsletter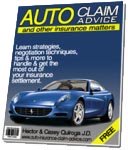 Join our free monthly subscription with tips, news, articles, negotiation techniques, and more about insurance companies and their claim process.
Join in and write your own page! It's easy to do. How? Simply click here to return to Got Questions?.
Please see more answers to recent personal injury and auto accident questions below:
---
For a Free Review of Your Case
Please Call (866) 878-2432
---