Ask an Attorney a Question for FREE!
Uninsured motorist claim for family member
My daughter was the passenger of a vehicle and was injured in an accident in which the driver of the vehicle she was in was the at-fault driver. It took me a couple days to get in contact with the driver's so- called insurance company stated on the fr-10 form.

The insurance company told me that the car was not covered and that they had cancelled their policy weeks before the accident.

My question is can I file a claim with my car insurance company for compensation for medical bills and pain and suffering under the uninsured motorist policy with my insurance. She is not on my policy, by the way. But she lives with me. We are from the state of South Carolina.

Answer:


Hello,

Yeah, mostly yes. If the other driver has no coverage, your policy will likely protect all your family members. There maybe some questions as to how often she drives this car and whether or not she should be listed. However, she is a member of the household, so there a strong possibility that she is cover.



How Much is Your Case Worth?
Ask a Lawyer Now!
Good Luck,
Auto Insurance Claim Advice
Subscribe to our Free Newsletter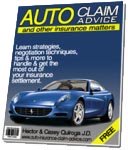 Join our free monthly subscription with tips, news, articles, negotiation techniques, and more about insurance companies and their claim process.
Join in and write your own page! It's easy to do. How? Simply click here to return to Got Questions?.
Please see more answers to recent personal injury and auto accident questions below:
---
For a Free Review of Your Case
Please Call (866) 878-2432
---