Ask an Attorney a Question for FREE!
Was hit after entering before the turning lane
My son started into the left turn lane a little early and a car entered the short left turn lane late and hit his car.

Are they both at fault? Because he was entered before the actual turning lane and because the other fellow did not look and was not aware of other cars (breach of duty to be aware of other cars?)

It is obvious the other fellow hit my son's car as the front left is damaged where the guy turned into my son's car.

Answer:


Hello,

They both look like are at fault. Your son entrance "a little late" is an improper use of the lane. The other driver does have a duty to look (which is why is he also at fault), but your son should not have been there. Even if the collision happened when he was in the proper spot, most drivers cannot look back to see if a vehicle was coming back from an illegal lane / lane entrance.

please see: http://www.auto-insurance-claim-advice.com/Fault-for-the-Accident.html


How Much is Your Case Worth?
Ask a Lawyer Now!
Good Luck,
Auto Insurance Claim Advice
Subscribe to our Free Newsletter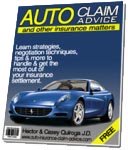 Join our free monthly subscription with tips, news, articles, negotiation techniques, and more about insurance companies and their claim process.
Join in and write your own page! It's easy to do. How? Simply click here to return to Got Questions?.
Please see more answers to recent personal injury and auto accident questions below:
---
For a Free Review of Your Case
Please Call (866) 878-2432
---