Ask an Attorney a Question for FREE!
What are our reponsibilites to the lady our daughter had a fender bender with in a crowded parking lot at a football game?
by Kate
(TN)
Our 17 year old daughter backed into a woman's car in a crowded parking lot. Even the woman she hit said it was truly an illegally parked SUV blocking everyone that caused the fender bender.

Our insurance had "just" expired so we are paying for this lady's car being repaired 'out of pocket'. All of this happened when my husband was out of town and I feel as if he would have been better in handling the said fender bender.

Our daughter took pictures with her I phone. The damage seemed to be quite minor. I think the car is a Toyota corolla, not sure, but something like that.

Do we have the right to ask her to get an estimate at "our" body shop that we use? Do we have the right to ask her to get at least 3 estimates? and do we have to pay for a rental for her while her car is being fixed? The police was not called.

Today this lady called and said she dropped her car off at a body shop (she gave me 2 quotes a week ago) and is expecting a rental car to pick her up at work today. my husband lost his six figure job over a year ago and we are barely meeting just our monthly bills.

How should this be handled legally? We want to do what is right.

Thank you,


Answer:


Hello Kate,

Well, legally, you cannot require her to go to your shop. You could ask for a few estimates, but sounds like she already took the vehicle in, so it maybe too late for that.

Just make sure you pay for the proper repair. If your daughter is at fault (which with an illegally parked SUV is questionable), then you would owe for the rental while the car is being repaired.

If she caused any damage, she should also have to pay for it.


Good Luck,
Auto Insurance Claim Advice

Subscribe to our Free Newsletter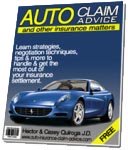 Join our free monthly subscription with tips, news, articles, negotiation techniques, and more about insurance companies and their claim process.
Join in and write your own page! It's easy to do. How? Simply click here to return to Got Questions?.
Please see more answers to recent personal injury and auto accident questions below:
---
For a Free Review of Your Case
Please Call (866) 878-2432
---