Ask an Attorney a Question for FREE!
What consider J-walk and if there should be any ticket issued when a car hit a pedestrian?
by Maya
I crossed a main street 2-3 foot from intersection when the light was green for pedestrian and approached after i made sure both side cars are not moving. in the middle of the road a driver hit me. considering a back bag I fall on face went unconscious till paramedics were there with a deep crack above my left eye(27 stiches)..and lots of pains and arthritis developing points on my spine.(accident date2005).

The cop didn't give the driver even a $20 ticket. is this right?

As I had a problem 2 years before the accident they try to build a case base on carrying depression from then and imagining the physical pain...

(my neck lost the curve and stiff neck is my every day routine.

What should I do ? They say reports are not in my favor and pretty much I am feeling stepped over..

should I try to take the case to court ? won't I be regret?
Pleaseeeeeeeeee help me ... I don't know who to trust.....

Answer:


Hello Maya,

You want to talk to an attorney! There maybe an statute of limitations to this. Talk to an attorney today!

You need a lawyer, even to know if you can take the case to court or settle with the insurance company of the driver or vehicle owner. You did have some injuries (documented).

I hope this helps.


How Much is Your Case Worth?
Ask a Lawyer Now!
Good Luck,
Auto Insurance Claim Advice
Subscribe to our Free Newsletter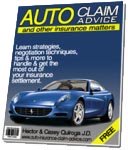 Join our free monthly subscription with tips, news, articles, negotiation techniques, and more about insurance companies and their claim process.
Join in and write your own page! It's easy to do. How? Simply click here to return to Got Questions?.
Please see more answers to recent personal injury and auto accident questions below:
---
For a Free Review of Your Case
Please Call (866) 878-2432
---