Ask an Attorney a Question for FREE!
What if I had an accident in my last policy period but now I wan to make a claim because I now have the deductable?
I have not had an accident for ticket for 20 years (just an FYI). I backed out of my garage into my spouse's car. It did damage to both cars.

Crunched my bumper and the other car's bumper also damaged head light. I did not have the deductable available at the time of the incident. Now I have it and would like to make a claim.

This happened in January but our policy goes May to May( still w/ the same company). The new policy period is in effect can I still file the claim and damages covered even though it happened in the last policy period?

Answer:


Hello,

Well, coverage is granted at the time of the loss. So you will be subject to those terms and conditions. The issue here will be the investigation that will ensue after you file.

The insurance company will be looking for the time and date of accident and a way to verify that. They will likely be worried that you had the accident now, or after the policy period as one deductible.

You do not want to be over state a claim or file so you do not have a deductible.

Also, read your policy. Often times a claim like this one is not subject to a deductible anyway (is waived by the insurance company).



How Much is Your Case Worth?
Ask a Lawyer Now!
Good Luck,
Auto Insurance Claim Advice
Subscribe to our Free Newsletter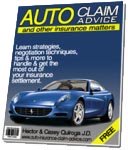 Join our free monthly subscription with tips, news, articles, negotiation techniques, and more about insurance companies and their claim process.
Join in and write your own page! It's easy to do. How? Simply click here to return to Got Questions?.
Please see more answers to recent personal injury and auto accident questions below:
---
For a Free Review of Your Case
Please Call (866) 878-2432
---