Ask an Attorney a Question for FREE!
Who is at fault for crossing the double yellow lane and coming back over to my lane?
by Laura
(USA)
I was following a car and in front of him was a dump truck.

The truck turned right and the car in front of me went into the passing lane of oncoming traffic (we did not have a passing lane).

As he was in the lane a deer came across the street and he came back over into my lane and we collided. His rear passenger corner and my drivers side front corner.

The police said it was his fault because he left his lane. But his insurance company is trying to get me to accept blame because I was behind him. Who is at fault? Please help!

Who

Answer:

Well, it is very difficult to determine fault without more facts. The bottom line is that both drivers have some duties here. The first driver cannot leave the lane like that. You had to conserve your distance from the other vehicles.

Both drivers violated those duties.

We hope this helps,

Good luck
Auto Insurance Claim Advice

How Much is Your Case Worth?
Ask a Lawyer Now!
Subscribe to our Free Newsletter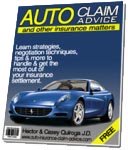 Join our free monthly subscription with tips, news, articles, negotiation techniques, and more about insurance companies and their claim process.
Join in and write your own page! It's easy to do. How? Simply click here to return to Got Questions?.
Please see more answers to recent personal injury and auto accident questions below:
---
For a Free Review of Your Case
Please Call (866) 878-2432
---