Ask an Attorney a Question for FREE!
Will my license be taken away if i got into a small accident with no insurance
by Rachel
(Chula Vista, CA)
I got into a accident, my car got screwed the other person car didn't get screwed as much as mine did, minor problem, It was a green light, he was making a right turn going north,

I was going straight west, he was going until he made a sudden stop, because of the sudden stop he made me bumped into him, I don't have insurance right now, got expired nov 6.

I spoke to him and told him the issue I had about having no insurance, he was willing to work it out with me and give me a week, now he wants his minor problem asap which I cant do asap, I'm a fulltime student unemployed, wouldn't he have some time of uninsured motor liability?

Will my license be suspended or taken away for a year?


Answer:


Hello Rachel,

We are not sure what coverage the other person has. Either way, you are responsible for the damage if you are found at fault.

If you cannot pay, financial responsibility laws may apply and bar your driver license, sometimes in excess of a year.

You need to get insurance asap if you are driving.

Good Luck,
Auto Insurance Claim Advice

Subscribe to our Free Newsletter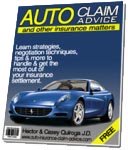 Join our free monthly subscription with tips, news, articles, negotiation techniques, and more about insurance companies and their claim process.
Join in and write your own page! It's easy to do. How? Simply click here to return to Got Questions?.
Please see more answers to recent personal injury and auto accident questions below:
---
For a Free Review of Your Case
Please Call (866) 878-2432
---