Ask an Attorney a Question for FREE!
50 % liable for someone backing into me
by Nanette
(Brooklyn, NY, USA)
As I was pulling out of a parking lot in Brooklyn onto a one way street a driver in a mini van started reversing in the wrong direction down the block.

I laid on my horn but he didn't stop but hit the front end of my car. We have the same insurance company who says I am 50% at fault.

I don't believe this is correct since I was not moving and he was traveling the wrong way down a one way. Is this correct?

Answer:

Hello Nanette,

Answer:


Most vehicle accidents do have negligence / fault on both vehicles. It would have to be very clear that you were parked and a vehicle back out into you (you were a non moving object legally parked).

You can

How Much is Your Case Worth?
Ask a Lawyer Now!
Good Luck
http://www.auto-insurance-claim-advice.com/
Subscribe to our Free Newsletter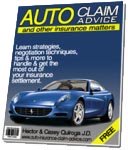 Join our free monthly subscription with tips, news, articles, negotiation techniques, and more about insurance companies and their claim process.
argue fault and put or most liability on them. Contact your insurance company to help you file a dispute / arbitration with the other carrier.
Join in and write your own page! It's easy to do. How? Simply click here to return to Got Questions?.
Please see more answers to recent personal injury and auto accident questions below:
---
For a Free Review of Your Case
Please Call (866) 878-2432
---