Ask an Attorney a Question for FREE!
A car backed into my parked car, but they say I'm at fault
by Liz
(San Jose, CA)
I was stopped, with my car in park, at a gas station pump. Another driver had pulled clear of the pumps previous to my parking. I had my door open, and was turned reaching for my purse in the back seat. As I turned back around to turn off the car, I saw the other driver backing up. I did not honk my horn because I thought he would swerve to miss my car, and I was shocked he was backing up.

He provided his insurance card and left before I could get back to my purse to retrieve my phone to take pictures. Now, his insurance company is saying I am at fault because I had a "duty to honk". They provided a vehicle code which references having a working horn on the car, and that garbage and refuse trucks need to have a working rear backup alarm. I found the vehicle code that states he has a duty not to backup unless he can do so safely.

Our cars were only about 10-15 feet apart, and if he had either turned his head or looked in his rear view or drivers side mirror he would have seen my red minivan. Can I be held liable for not avoiding an accident in a parked car? By the time we pay our percentage and our deductible we end up owing more than 50% of the repair costs, plus our car rental for the week with no car.

I am thinking of taking the issue to small claims court since their insurance is not budging and my insurance just wants it settled quickly.

Answer:

Hello, well, small claims could be a good option for you. This is ridicules! Your car is parked, not moving, there to be seen.

They are the ones backing in a gas station, they have a significant duty to make sure it's safe.

Please see our section on small claims here:

http://www.auto-insurance-claim-advice.com/



How Much is Your Case Worth?
Ask a Lawyer Now!
Good Luck,
http://www.auto-insurance-claim-advice.com/
Subscribe to our Free Newsletter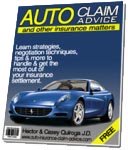 Join our free monthly subscription with tips, news, articles, negotiation techniques, and more about insurance companies and their claim process.
Please see more answers to recent personal injury and auto accident questions below:
---
For a Free Review of Your Case
Please Call (866) 878-2432
---