Ask an Attorney a Question for FREE!
Accident claim against me for over the policy limit
by Lionel
(Cypress, CA, USA)
I have been assumed to be at fault in a 5 car pile-up accident. I was the most seriously injured in the accident; found unconscious on scene and sent directly to ER.

My insurance company claimed that the total property damage claimed against me had exceeded my coverage and they have tried to settle with all parties. 2 of the 4 claiming against me are not settling for the amount they were offered by my insurance.

1 of these parties have contacted me to seek out-of-pocket payment. We have reached an agreement of $3000 to be paid off in installments.

I am worried of the way this insurance company had first contacted me; came up with the amount which they have increased once after an initial phone conversation agreement, and the way they are seeking payments.

Is this a legitimate way insurance companies settle claims with individuals? What can and will they do if I refuse payment now or in the future?

If and when the second insurance company contacts me for their share of my out-of-pocket payment, what can I do then if I cannot afford more payments? I'm still paying off my own medical bills from the accident which came up to over $43,000 for a single day in the ER, not to mention follow-up medical visits.

I've heard that the opposing insurance companies can go after my assets. What if I do not own any assets? I rent and do not own a house. I have a car that I'm making payments on. Can they reach into my personal savings and take what they want?

Please advice.

Answer:

Well, they can come after you for payments after all limits of insurance have been exhausted. You will need to talk to an attorney to protect you. They may have un/under insured motorist to pay for the damages your insurance does not cover. Then you may be able to come to an agreement with them.

Your insurance company owes you legal representation, they may have to appoint a lawyer and have that lawyer deal with all the insurance companies and other parties.

They can reach everywhere if the have a judgment. This is why you should not make a move without talking to your insurance company and/or lawyer.

If this gets out of hand, you may consider bankruptcy to shield you.

Good Luck,
http://www.auto-insurance-claim-advice.com/

Subscribe to our Free Newsletter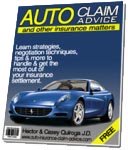 Join our free monthly subscription with tips, news, articles, negotiation techniques, and more about insurance companies and their claim process.
How Much is Your Case Worth?
Ask a Lawyer Now!
Join in and write your own page! It's easy to do. How? Simply click here to return to Got Questions?.
Please see more answers to recent personal injury and auto accident questions below:
---
For a Free Review of Your Case
Please Call (866) 878-2432
---