Ask an Attorney a Question for FREE!
Am I Responsible fo this Accident?
by Linda
(PA)
My husband was driving home from flag to pa he was towing a 16 ft enclosed trailer with 3 motorcycles inside.

While in the state of w va. the trailer started to sway back and forth it got worse we ended up jacked knife on a bridge going 300 ft sideways before we stopped / the truck was totaled the trailers back doors blew open and my husbands bike was ejected onto the highway.

His insurance agent has been giving different answers every day to the point he doest even know anymore what to believe. my main question is the trailer he was pulling did not belong to him we found out after the accident it wasn't insured the guys want my husband to pay for a new one for 6 grand my husband insurance cap is 1500.00 cap , he says he won't need that what is my husband next move?

Answer:


Hello Linda,


If your husband borrowed a trailer and jack knifed it, any damage (or total loss) caused will be your husband responsibility. There is no much he can do, but to claim in to his insurance and hope there is coverage.

Contact a local attorney to help you with coverage.


Good Luck,
http://www.auto-insurance-claim-advice.com/



How Much is Your Case Worth?
Ask a Lawyer Now!
Subscribe to our Free Newsletter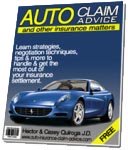 Join our free monthly subscription with tips, news, articles, negotiation techniques, and more about insurance companies and their claim process.
Join in and write your own page! It's easy to do. How? Simply click here to return to Got Questions?.
Please see more answers to recent personal injury and auto accident questions below:
---
For a Free Review of Your Case
Please Call (866) 878-2432
---