Ask an Attorney a Question for FREE!
Auto Accident question to fight a denied claim
by Tracie
I was in a mall parking lot waiting to make a left turn and I was struck by another vehicle on my front driver's side near the tire and left bumper.

Where I was at is an area where it is hard to see around the parked cars therefore the front end of my car was sticking out somewhat in order to see the oncoming traffic and the other vehicle was traveling at a high rate of speed and struck my vehicle which was not moving but sitting still waiting to make a left turn and now the other person's insurance has denied my claim and says their insured had the right of way and I need to know if a person can just hit me and get away it because the insurance company says they had the right of way.

I need to know if I can fight this decision and how?

Answer:


Well, parking lot accidents typically share fault. The question here is which insurance company made this decision?

Yours or theirs? Or both? You need to talk to your carrier, let them make an investigation and then have both carriers go to arbitration.

This is a possibility. Without knowing who made the decision is difficult.

Please see our section of fault: http://www.auto-insurance-claim-advice.com/Fault-for-the-Accident.html


How Much is Your Case Worth?
Ask a Lawyer Now!
Good Luck,
http://www.auto-insurance-claim-advice.com/
Subscribe to our Free Newsletter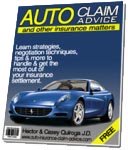 Join our free monthly subscription with tips, news, articles, negotiation techniques, and more about insurance companies and their claim process.
Join in and write your own page! It's easy to do. How? Simply click here to return to Got Questions?.
Please see more answers to recent personal injury and auto accident questions below:
---
For a Free Review of Your Case
Please Call (866) 878-2432
---